Popular Reusable Nappies Totsbots Bamboozles Night Nappy
About TotsBots Bamboozles Night Nappy
The Tots Bots Bamboozles Night Nappy is a two piece system consisting of the Bamboozle fitted nappy and the PeeNut waterproof wrap.
TotsBots is "still a family run business based in the East End of Glasgow," according to owners Magnus and Fiona Smyth.
The company was set in 2003 with a passion to create an ecofriendly and "ultra-performing reusable nappy made from one of the most sustainable plants, bamboo", the couples explain.
If you decide on purchasing any item through any of the retailer links provided on this site, I may earn an affiliate commission as a result.This is not a sponsored post.
(Kindly refer to our affiliate disclosure for more information).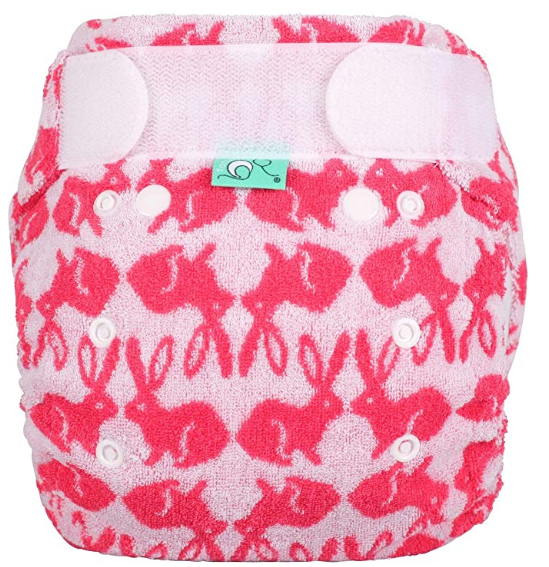 Its Best Attributes
If you have a preemie or a small baby whose primary needs are a customised fit, comfort, absorbency and dryness, then the TotsBots Bamboozles Night Nappy is an option you may want to consider.
Designed to last for up to 12 hours, it can hold up to between 575 – 855 mls of water.
It's ecofriendly, easy to use, chemical free and of an award-winning quality,Oekotex certified, according to the manufacturers.
It is suitable from newborn to potty training as it comes in three size options.
Size 1 is for babies who weigh between 6-18lbs (2.7- 8.2kg) suitable for smaller babies, preemies, and twins.
Size 2 is for babies who weigh between 8-35lb (3.6- 16kg) suitable for birth to potty.
Size 3 is ideal for toddlers, and for babies who weigh 35lb (16kg) and above.
The nappy's poppers in the rise and Velcro closures are adjustable to accommodate your baby's growing needs, and to provide a customised snug fit.
The TotsBots Bamboozle nappy requires prepping.  You are to wash once before first use.
However, you have to have washed it for up to about eight times for it to attain its highest level of absorbency.
Manufacturer's care instructions:
Do not use a fabric laundry softener or an oil-based cleanser. Wash wet nappies at 40 degrees & soiled ones at 60 degrees using non-bio wash powder. Hang the nappy up to dry or tumble dry cool. For storage in between washes, use a nappy bucket, no need to soak."
A Quick Overview
Material
Bamboo 80%
Polyester 20%
Size System
Size 1 Size 2 Size 3
Prep
Yes
Style
Unisex
Type
A Fitted Nappy
A Waterproof Cover Required
Design
Block Colour And Print
Price
£££ ( Check Current Price)
Our Rating
8/10
The Pros And Cons Of The TotsBots Bamboozles Night Nappy
It's Absorbent
The bamboo material is a very thirsty material and is excellent for overnight use and for heavy wetters.
It's Manageable
It's easy and convenient to use which makes it suitable for the creche and child minder. It also washes well.
It's comfortable and provides the snug fit.
It doesn't leave any baby out – preemies, small babies, newborns to toddlers. It has a size for every baby.
It has well enforced elastic around the legs to help with containment.
It Stays Dry
It has a stay dry buffer zone which keeps the pee locked down in the core of the nappy.
It's Economical
The size two is a very popular choice, making it a very economical nappy as it can be used for the entire diapering phase of your baby.
It's Durable
Because you aren't restricted to only one size, you can spread the wear and tear between the three sizes making the nappies more durable.
A Foldable Velcro Closure
The Velcro tabs can be folded in before washing in the machine to prevent it from catching on other items.
Cons
It Takes To Long To Dry
Its greatest asset appears to be its worst nightmare, bamboo
Bamboo, although very absorbent, is very slow to dry. It takes up to 12 hours to dry naturally, making it a no brainer for busy mums.
It's Bulky And Bulgy
There were complaints that the nappy was very soggy and bulky when wet and bulges under clothes.
Durability Issues
The Velcro wears out quickly over time due to frequent washing.
Sizing Issues
Despite the fact that it's a roomy diaper, a great deal of mums complained about the sizing.
Leaky Issues
Some mums experienced containment issues such as leaks around the edges especially with runny poo.
Helpful Tips
Be careful to follow the fabric care instructions to avoid any damage to the nappy as well as the waterproof wrap.
If you must tumble dry, ensure that the dryer is on low heat as bamboo is a very delicate material and can't withstand heat.
If you dry out in the sun, pull out the insides of the nappy to hang down, this will make the nappy dry quicker.
You can attach a hemp booster to the nappy to achieve more absorbency.
You can also place a trifold hemp prefold nappy (size two) between the nappy and the Peenut wrap to help prevent leaks.
To help protect the nappy from poo stains use the TotsBots disposable biodegradable liner, only remember that it should be binned and not flushed.  Just shake the poo into the toilet and flush as usual.
(Kindly refer to our affiliate disclosure for more information).
Also Buy…
TotsBots Peenut Waterproof Wrap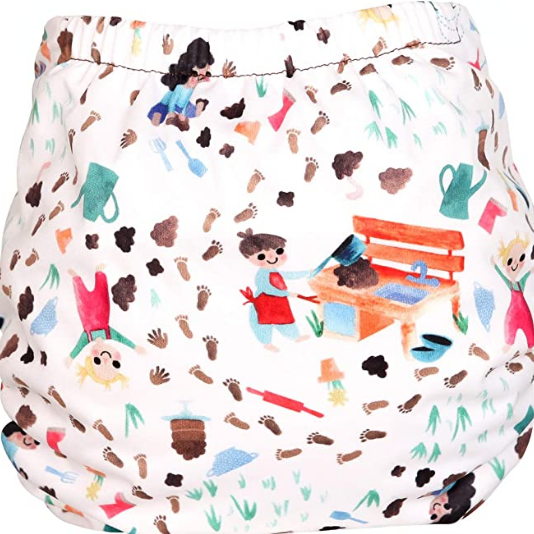 TotsBots Disposable Biodegradable Liner
Hemp Inserts Recommended By Mums
(Kindly refer to our affiliate disclosure for more information).
Geffren Baby Super Plus Hemp Inserts
Thirsties Hemp Inserts Small
Thirsties Duo Hemp/Organic Cotton Cloth Prefold, Size Two
Conclusion
I really like this nappy because it didn't compromise on fit, absorbency, quality, and moisture control.
Many mums say they are happy with the brand and would recommend it to others.
There was the odd complaint about the elastic being of poor quality so be careful not to soak nappy in very hot water.
I would recommend this nappy to a friend.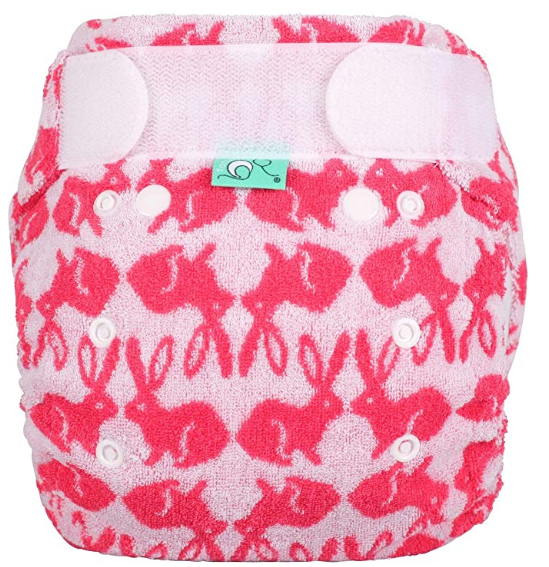 ---