Promoting A Left Shift In Your Health And Wellbeing
On 22 July 1946, the World Health Organisation defined health as "a state of complete physical, mental and social wellbeing and not merely the absence of disease or infirmity."
In promoting a left shift in your health and wellbeing, you'll learn that health is a continuum and we could go from one end of the spectrum to another, from wellness to ill-health.
According to the Global Wellness Institute, wellness is:
"The active pursuit of activities, choices and lifestyles". It will not come on a platter of gold but requires deliberate action.
So, What Is A Left Shift?
The left shift may be a key on the computer hardware, but this has nothing to do with health.
In Medicine, it refers to when the immature white blood cells are released from the bone marrow into the blood.
Recently, there have been talks about the left shift of healthcare in the United Kingdom (UK).
This instance involves transferring some health services from hospitals to GP surgeries or other community health facilities to make them more accessible to patients.
What I mean by the left shift is none of the above.
Here are some examples where shifting will do us a world of good:
Bodyweight
Waist Circumference
Abdominal girth
Blood Pressure
Heart Rate
Cholesterol level
Blood glucose (HbA1c) level
Before getting into specifics, let us be reminded that while much of the left shift depends on our lifestyle and behaviour, other factors influence our daily choices, namely:
The genes we inherited from our parents, the quality of health and social services at our disposal and the environment we live in.
Sadly, we cannot choose our parents, and we are primarily at the mercy of the services and our environment.
No excuses, then! We must get serious with our lifestyle to prevent avoidable complications.
Let's look at your body weight and its implications on your health.
Bodyweight
The American Centre for Disease Control (CDC) says: "People who have obesity, compared to those with a normal or healthy weight, are at increased risk for many serious diseases and health conditions."
Hypertension, type 2 diabetes, stroke, gallbladder disease, arthritis, snoring and breathing problems, depression, certain cancers, reflux, low self-esteem are examples.
A deliberate attempt to lose weight will always go a long way.
As a company whose strapline says, "every little helps."
Related Video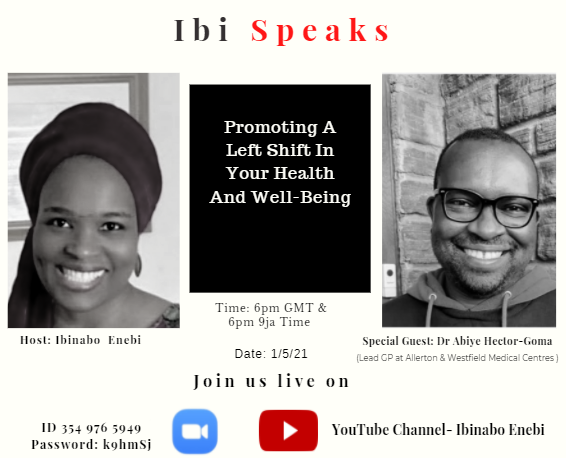 This Is How Your Body Works
When you gain weight, fat is deposited.
Fat deposited in your abdomen, "tummy fat", increases your abdominal circumference and waistline and damages your heart and blood vessels.
You can't see that this fat is also deposited around your heart, liver, and intestines and can do you a great deal of harm with time, which makes obesity a complex problem that has no quick fix.
You can achieve a successful left shift in the areas enumerated above by applying the same strategies to most long-term conditions.
Also See: 8 Ways To Love Yourself During This Lockdown
Mental Health: 7 Tips To Help You Thrive As You
How To Achieve A Left Shift Successfully
Lifestyle interventions can bring about a left shift and improvement in the conditions above, even a possible reversal or remission with tremendous success.
The American College of Lifestyle Medicine identifies six areas for intervention.
To this end, they focus on:
"Educating and motivating patients to change personal habits and behaviours around the use of a whole food, plant-predominant dietary lifestyle, regular physical activity, restorative sleep, stress management, avoidance of risky substances and positive social connection."
Now you know that making a positive personal change towards your diet, physical activity, sleep, stress management, substance intake and social connections is, in fact, making a shift in the right direction, a left shift, so to speak.
We make choices all the time.
Be they to Drop Everything And Sleep (DEAS) or stay up until the early hours of the day.
Or change to your joggers and go running or procrastinate and settle to watch your favourite TV program.
Or cut back on the white stuff on your plate and focus on the greens and reds, or dive into calorie-dense food.
These are all choices we make consciously or otherwise.
The good news is that you can do something about it, and here is how:
# 1 Your Diet
The American Dietetic Association suggests that a healthy meal should be half a plate of non-starchy vegetables, a quarter by protein and a quarter by carbohydrate foods.
This will achieve two things – a reduction in carbohydrate, food portion and the calorie density of our foods, and ultimately contribute to weight loss.
#2 Physical Activities
Physical activity has always been described as the best buy in Public Health.
Therefore, a good dose of being active for thirty minutes or more on at least five days every week, whether at a stretch or intermittently, is advisable.
Anything you do that makes you sweat, breathe faster, and cause your heart to beat faster is considered physical activity.
The amount of time you spend sitting throughout the day has also been identified as a risk factor.
Therefore, you need to reduce your "bum time drastically".
You should make a conscious effort to spend more time on your feet every day, whether at home or at work!
Finally…
Our wellbeing is our responsibility and not that of our health professionals who spend most of their time trying to restore us to good health when our health fails.
To make a shift from right to left, we must take control of the following:
What we eat and drink
Our rest patterns
Connections with people
Our physical activities
Intake of alcohol
Our smoking habit
When we do this, we orchestrate a left shift that will see the numbers drop or reduce, which will induce a massive improvement in our health.
So, move to the left.
For more resources check out:
Abiye Hector-Goma is a General Practitioner in Leeds, UK, passionate about community development and encouraging patients to take responsibility for their wellbeing.