Refresh to Relaunch 2023 Q&A Event
It's another year and another opportunity to dream, aspire and achieve great goals. However, you accomplish things faster and better with the correct information and the right tools. 
That's why on this second edition of Refresh to Relaunch 2023, Question and Answer (Q&A) Event, you'll learn how to plan for your desired future without leaving anything to chance!
Our award-winning professionals and thought leaders will teach you how.
What to expect
This is a two-part event.
The guest speakers will give an initial presentation on their topics of expertise in the first part.
The second part is a breakout interactive session (question-and-answer) for more in-depth discussions with your guest speakers of interest. Here you get the chance to ask the experts your nagging questions, receive methodology and understand the application.
The event holds on Saturday, 28th of January 2023, at 6 pm. It's an online event.
To be able to enjoy direct access to the speakers, you would have to register for the event at Eventbrite.
This is a free event!
You will gain insight on the following:
Face your fears. Your dream is possible!
The four proven drivers that determine your success in life
How to plan for a successful retirement
Health is wealth. Take care of your mind!
How to live your life to the fullest
About our Guest Speakers

Folake Adeniyi- Adeleye
Folake Adeniyi-Adeleye is a Global HR Leader in Tech, a Certified Executive and Transition Coach and the Founder of Coachivate. She'll provide insights to help you face your fears and achieve your dreams.
With a 23-year career that spans industries such as management consulting & advisory, oil & gas, telco, and information technology.
She is a seasoned corporate executive with extensive experience in International Human Resource Management (IHRM), Talent Management, Strategic business partnering & Organisational Development in leading global multinationals – like Celtel/Zain (now Airtel), Microsoft & Oracle – overseeing regional & international portfolios.
As Regional HR Director overseeing the Sub-Saharan Africa market at a global IT MNC, she collaborates with business executives and stakeholders in both emerging and developed markets to implement international people and talent management strategies.
She recently founded 'Coachivate', a platform and practice that delivers career transition coaching solutions that help mid- to senior-level executives develop the right mindset to land their next role and the skill set to create impact in Senior level/C-suite positions.
She also hosts the weekly 'The Executive Mindset' room on Clubhouse – an audio, social media app.
Folake is a Certified Executive Coach at the UK Academy of Executive Coaching (AoEC).
And also, a Certified NLP (Neuro-Linguistic Programming) Coach, a Gallup Certified Strengths Coach, and a member of various professional associations, including the International Coaching Federation (ICF) and Society of Human Resource Management (SHRM).
She is a sought-after speaker with core interests in career transitions, workplace visibility, building executive career confidence, dealing with fear, self-doubt and the imposter syndrome, the role of HR in digital transformation, and reskilling the workforce for future employability and more.
Website: Home – Coachivate
Patrick Mercie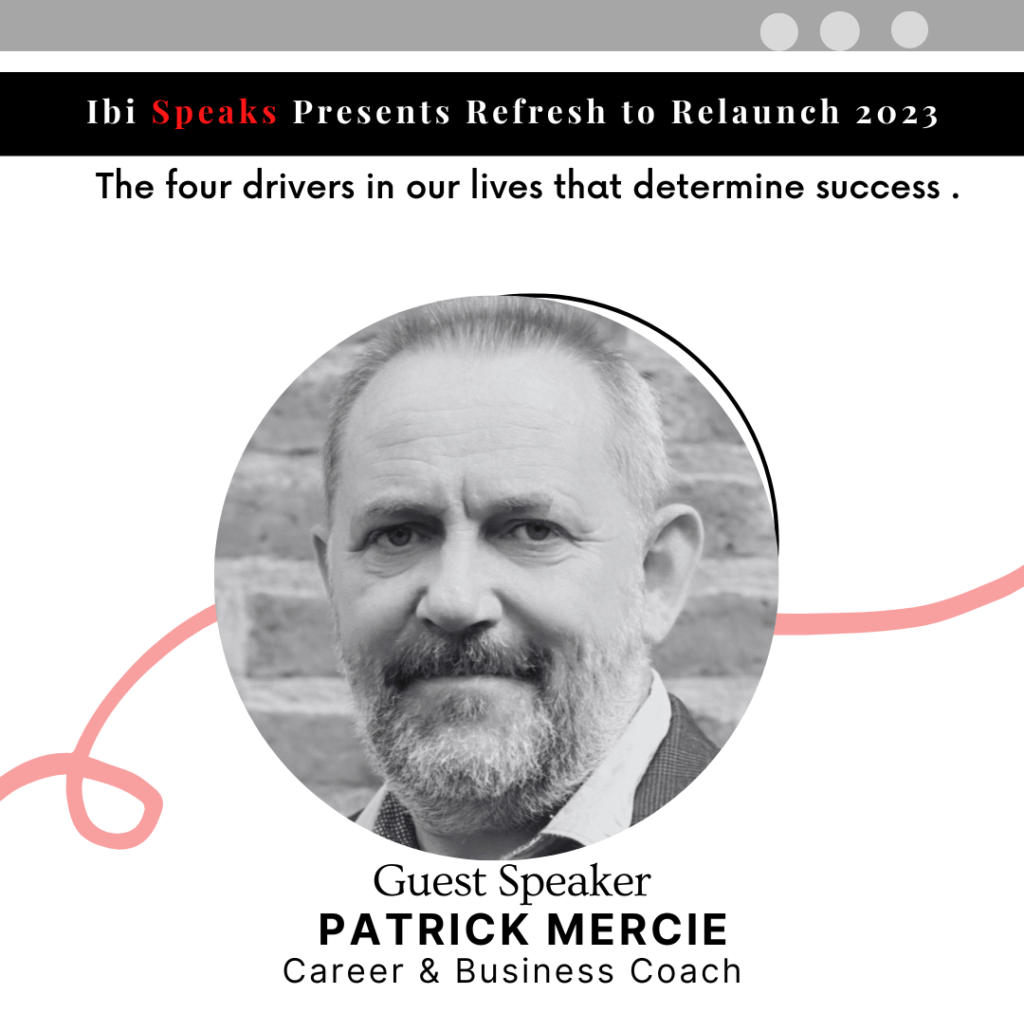 Patrick Mercie is a Career and Business Coach and founder of Intentional Academy. From him, you'll understand the  four drivers that determine success in your life and how to begin to use them right now!
Coming from a background of Corporate, and Retail Management, Patrick is since 2007, a fully Qualified Life, Career & Business Coach with the Irish Lifecoach Institute, a Master NLP Practitioner, Qualified Trainer, National Committee Member of the Professional Speaking Association of Ireland, and Radio Presenter with Limerick City Community Radio.
Patrick helps professionals, C-suites, managers, business owners, solopreneurs, and entrepreneurs R.A.I.S.E. their profile in order to Have A Life While Making A Living. He also works as Business Coach for business owners and delivers workshops in companies and organisations on resilience and related topics.
(R.A.I.S.E. stands for Resilient, Adaptable, Imaginative, Sustainable and Efficient.)
As a hobby, Patrick has run 126 Full and Ultra Marathons and is a Member of 100 Marathon Club Ireland.
 Website: Having A Life While Making A Living – Stories, people and Events! (theintentionalacademy.ie)
Inyang Sami-Orungbe 
Inyang Sami- Orungbe is a Personal Financial Planning & Retirement Planning Expert known as "The Retirement Planning Queen" she'll teach you how to plan for a successful retirement. Not only that, you'll become aware of the most common mistakes to avoid as you approach retirement.
Inyang is a Business Administration graduate of Rivers State University of Science and Technology, with an MBA in Business Management from ESUT Business School, Lagos. She has over 35 years of working experience.
Her corporate working life has taken her through organisations like IBTC (now Stanbic IBTC Bank) and CrusaderSterling Pensions, where she was the pioneer Head of Marketing. 
She also worked within the Guaranty Trust Group at Assur Asset Management Limited, a subsidiary of Guaranty Trust Assurance, now AXAMansard Plc, as the Head of Business Development, managing high net worth clients with a value of over N4 billion. 
Her core areas are Personal Financial Planning & Retirement Planning, Sales & Marketing, Customer Service and other soft skills. She is a Fellow of the National Institute of Marketing of Nigeria (NIMN).
She's currently the Managing Partner and Co-Founder of Averti Professional Managers, an all-female business solutions agency. 
She's also the Founder of The Bloom box Platform, where she facilitates and coaches Retirement Planning. She facilitates preretirement group sessions and provides one-on-one preretirement coaching to individuals.

Greg Davis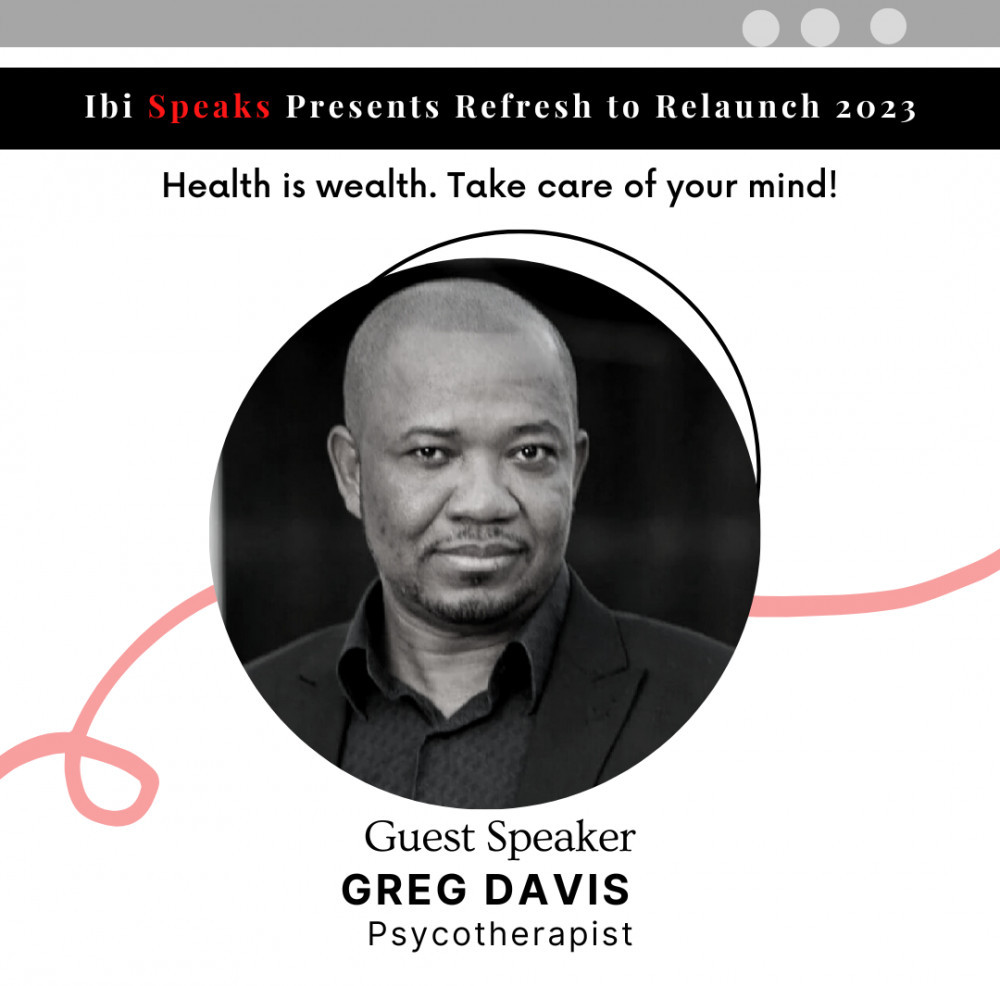 Greg Davis is an accredited and certified mental health clinician, relationship therapist, and EFAP counsellor. From him, you'll learn how to take care of your mind!
His areas of interest and expertise include mental health issues such as depression, anxiety, loneliness, low self-esteem, stress, and shyness.
He is the founder of Greg Clay Davis, which offers clinical services such as mental health and relationship Therapy, critical incident stress management (CISM), and scheduled ongoing treatment, to mention a few.
A certified University Chaplain, Greg is an accredited clinical psychotherapist and a board member of the National Association for Professional Counselling and Psychotherapy (NAPCP) Ireland and a member of the British Association for Counselling and Psychotherapy (BACP), UK.
He is a Beck Certified Clinician from the Beck Institute of Cognitive Behavioural Therapy, USA.
He also holds a Master's in Counselling & Psychotherapy from the Irish College of Humanities and Applied Sciences, Limerick, Republic of Ireland and a Master's in Organisational Leadership from Azusa Pacific University, California.
Website: Gregclaydavis.org
is an accredited and certified mental health clinician, relationship therapist, and EFAP counsellor.
Website: Greg Clay Davis | Psychotherapist
Dr Toyin Akande Ajala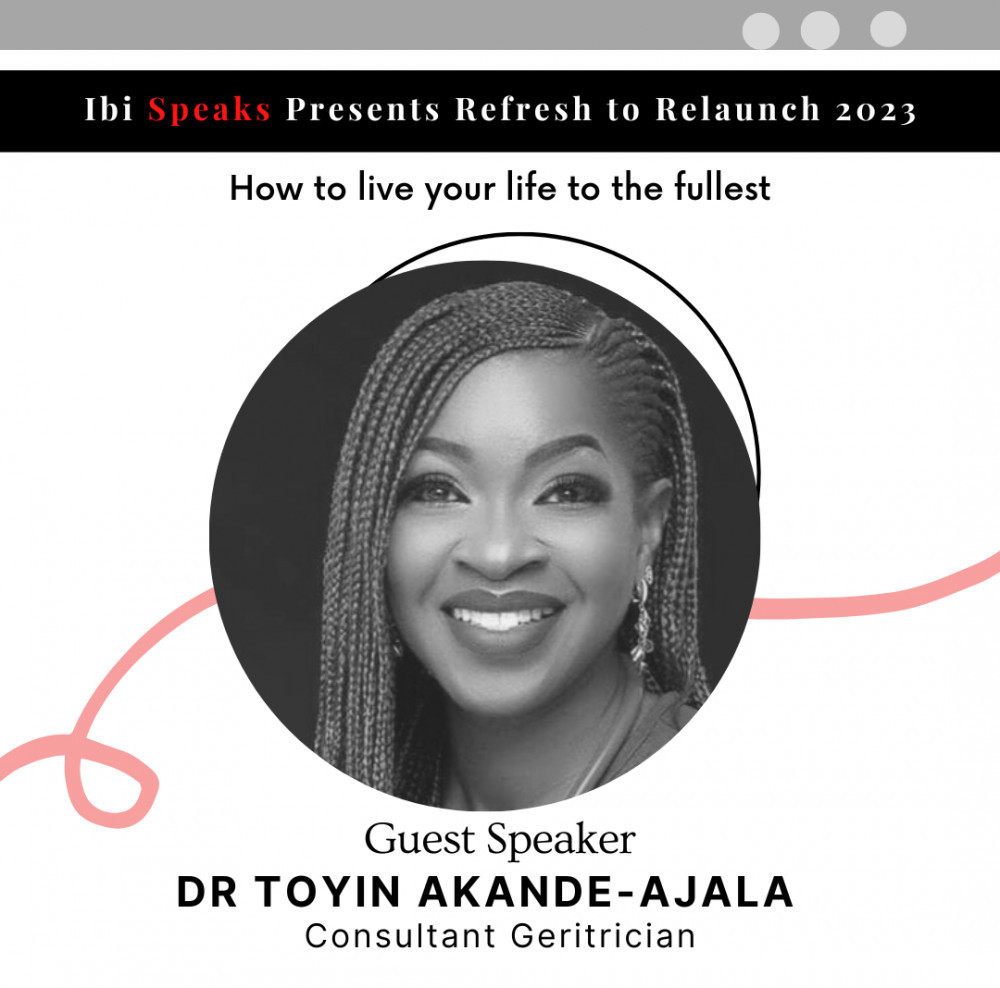 Dr Toyin Akande Ajala is a United Kingdom (UK) trained Consultant Geriatrician with over 27 years of experience as a physician in Geriatric Medicine in the UK's National Health Service (NHS).
You'll learn from her, insights on how to live your life to the fullest.

She is the CEO of JBS Medicare Services, the leading private elderly healthcare service in Nigeria and the Founder/Managing Director of the newly founded JBS GERONTOLOGY CENTRE, Lekki, Lagos, a hospital and specialist centre for the older age group.

Her Foundation's "Adopt a Gran" programme caters for the underprivileged elderly in Nigeria and sub-Saharan Africa.

She is married to an Obstetrician/Gynaecologist and is a Mum of 4.
She's an avid world traveller, travelling to all seven continents, including Antarctica. She is a multiple award winner and a mother of four.

Website: Home – JBS Medicare Services
Hurry and register for free on Eventbrite. To register, click here.