Knowing When To Read To Your Child
Not knowing when to read to your child is as counterproductive as doing the right thing at the wrong time.
United Kingdom based independent educational consultant, and Co-founder of So He Cares, Ruth D. Whyte (M.Ed.) says that you shouldn't read to your child when he or she is disengaged or cranky.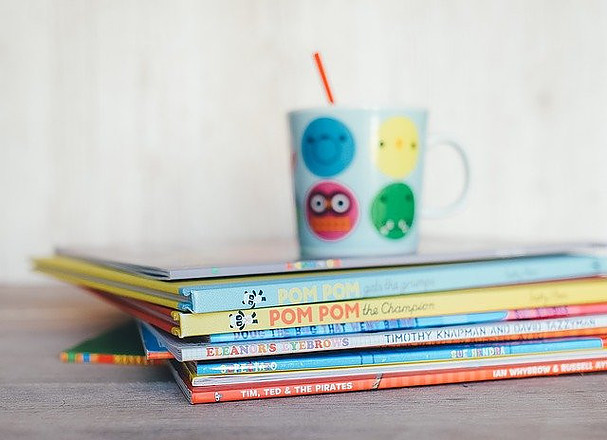 According to her:
"We must look for those times when the child is most receptive to receive information."
"This is when the exercise will be most beneficial to your child and less stressful for you,"  she adds.
Reading To Your Unborn Baby
If you decide to read to your baby during pregnancy, ensure to choose a time of day that's most convenient for you, and try to do it as often as you can.
Remember that you will be reading out loud to the baby, so be sure to do it at a time when you are comfortable and relaxed.
Your baby's brain starts developing from around 26 weeks. During this time, he or she is beginning to respond to sound and even voices.
By the time your baby is around six months, he or she should be familiar with sounds within his environment like digestive sounds and even your heartbeat! 
Your baby also responds to music and can recognise your voice at this stage.
I imagine that reading to your unborn child can be a soothing, comforting, and exciting experience for him or her.
Plus, words introduced early aid intelligence, brain, and language development.
I believe that when you read or talk to your unborn child, you establish the much needed reassuring bond necessary for those delicate first few weeks of life outside the womb.
Related Post: Seven Reasons Why It's Important To Read Yo Your Baby Early
Knowing When To Read To Your Child
For your child to have a fruitful reading experience, you'd have to read to him or her at a time when they would be most eager to go with the flow, definitely not when the child is disengaged, uninterested, tired, hungry, or cranky.
The age of your child also determines when you can add reading into the mix.
Whyte says that children between ages zero – five are usually very active and can easily outrun you. Therefore, reading to them should be targeted at the times when they are most receptive.
When is the best time to read to them?
Bedtime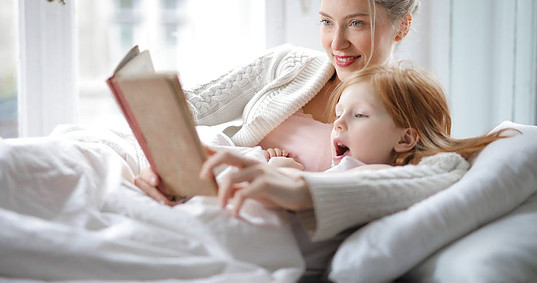 According to Whyte, bedtime is her most preferable time of day to read to children.
Also, it is a time that suits the majority of people.
During this time, both you and your child are relaxed and are winding down from the day's activities, no rush to meet timelines and things like that.
She explains:

" … I have suggested the bedtime period because that's when children are calm, more focused and are ready to drift off into sleep."
With that said, she's aware that every child is different, and as parents, we would need to find out what works best for our child.
---
Spontaneous Reading
While some children will do well in a structured and routine setting, some are more spontaneous and would want you to read to them at any time or even at odd times.
For example, a toddler can wake up early in the morning or in the middle of the night and would want you to read to him or her.
Such a child could be an emergent reader.
Emergent readers are those who are excited about books and want to read at every point in time.
They enjoy it when you read to them.
Such children look forward to reading with anticipation. They expect to be entertained by the stories.
Parents must be prepared to engage with such a child.
---
During A Long Journey
Reading when you are going on a long journey can work for children who are a little older.
You can make the most of their time by reading to them. It'll make the journey more enjoyable.
As a mum, I know that embarking on a long journey with young children can be very cumbersome.
I dreaded those times when I had to travel with my children on long journeys.
Regardless, they have their advantages and could turn out to be a great learning resource.
The real-life scenario is a fantastic avenue for children to practice sight vocabularies, and also employ the use of adjectives to describe things they see around them in a light, fun, and relatable way.
Young children can use this time to express themselves, building their communicative and literacy skills in the process.
---
Play Time
Some mums may want to incorporate reading time into the play time-space. While this may work for some children, it might not work for others.
The focus of the child during this time is his or her toys.
For instance, your child may want to line up their favourite toys or superheroes and talk about them instead.
Playtime may not be the most receptive time for your child. So, it may be counterproductive to introduce a book to read then.
But! You can capitalise on your child's interests by introducing books based on his or her favourite toy or superhero during bedtime, or one of those spontaneous reading moments.
They are fascinated to read about their favourite superheroes or toys.
---
Helpful Tips To Have A Successful Reading Experience With Your Child
Here are seven tips on how to make reading to your child a worthwhile experience.
# 1 Read Them Story Books
The way and manner you introduce books to your child have a direct consequence on his or her attitude towards reading and books later on in life.
That's why it's advisable to start with storybooks.
When you read storybooks to your child, you help to excite his or her interest in reading and books.
Besides, a good story shows the child that reading can be both enjoyable and meaningful.
It's like planting a seed of interest in your child, that will later blossom into the fruit of the love of books and reading in the future.
He or she would most likely become a book lover and would enjoy reading for relaxation and pleasure.
Bedtime stories are a way to start.  I love bible stories as well. They appeal to your child's imagination and curiosity. Most of all, they are fun to read.
You can attract your child into the world of books by simply reading him or her bedtime stories.
# 2 Be Engaging
Young children love to be amused. They enjoy it when you make funny facial expressions and quirky noises.
To engage them effectively, you have to ensure that your reading is interactive.
Project your voice to reflect exclamations, and the mood of the character in the story to sustain your child's interest
Talk about the pictures in the story too. Children love that!
# 3 Your Timing
Whyte explains that your timing plays a valuable role in making reading a worthwhile experience for your child.
Endeavour to read to your child at the time when he or she is most receptive.
Don't choose a time when he or she wants to play or watch their favourite programme on T.V.
# 4 Read Your Child's Mood
Know the mood of your child.
Is he or she in the mood for other activities like colouring, drawing, singing, or playing with toys instead of reading?
Your goal is to create a meaningful reading experience.
Let the child do what interests him or her first, and then read to them at bedtime or at spontaneous moments as so initiated.
# 5 Please Don't Do This!
Reading to your young child at home is about relaxation and learning in a fun way.
It isn't an academic exercise, so please don't take the fun out of it or make it regimented or appear to be like a must.
Worst of all, please don't let it linger on for hours on end.
At best, you can read a page or two at a time. Better still, keep your reading sessions under 10 minutes unless the child is eager to continue.
# 6 Age Appropriate Books
Now, engaging your child at a time when he or she is most receptive, and a good story is necessary to spark his or her interest in reading.
The next big thing is this!
How can you make children come back to read on their own, those stories you once read aloud to them?
The answer is going for age-appropriate books!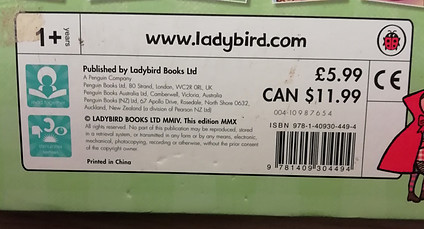 Age-appropriate books consider the literacy needs and competence of children at every level, and provide for that specific level.
It means that the book is not too complicated for a young reader (which makes reading overwhelming) or banal for an older reader ( which makes reading less challenging).
Classic storybooks are good examples.
They are usually presented in a way that's appealing to an infant, a preschooler, or a primary school child without losing its originality.
For example, depending on the age of the child, a particular classic storybook could come in form of a board book (sometimes in a touch and feel or sing-along format ), a pop-up, an illustrated, a picture, or a simple good old well-written story book.
The story is always presented in a way that captures the child's interest regardless of what age he or she is.
Also, young children love personalised storybooks and ( my favourites) quirky and silly stories too! 
The result of all of these is that your child would naturally grow to become an avid reader because you have taken the correct steps to show that books are enjoyable and meaningful.
# 7 Be Comfortable
The last but not the least tip is that you and your child should be comfortable.
Sit in a comfortable position if you are both sitting up, or make sure the child is well tucked in bed, if it's bedtime .
---
Click here to read our review post: Children's Books You Ought To Buy For Your Child.
Finally…
In the words of Ruth D Whyte:
"At the end of the day, our goal as parents is to build up kids who are independent, happy, safe, and ready to take on what's presented to them in future, more or less resilient adults.
So, reading to children is very important for the development of their brains.
Through reading, a lot of bonding occurs. There is a lot of hugging and pecks during this time."
---
Most Recent Posts
My Conclusion 
Mums, I hope you found this post as informative as me.
Well done! For those who are reading to their children.
And for those who haven't started yet, there's no need to beat yourself up. You can start right now where you are.
It doesn't matter whether you are an almost due pregnant mum, or you have an infant, toddler, or preschooler.
Start now, start reading aloud to your child or children and enjoy the journey.
Next time, I will be doing a review post on children's books. You will learn more about the different types of books to go for.
Till then, stay safe, and please leave your thoughts and comments below.
One more thing, kindly share this post with your friends and family.
Thank you.