7 Reasons Why It's Important To Read To Your Baby
The seven reasons why it's important to read to your baby early, show that a book in the hands of a parent is much more than words written on paper, it's in fact a seed that stems out to become much more.
Ruth D. Whyte, an independent educational consultant based in the United Kingdom and founder of So He Cares believes that the ages between zero and five  years are the most crucial learning opportunities in your child's life.
She says:
She also says that when you read to your child that tender, he or she can acquire language, learn to express themselves better, and also gain social skills.
Reading From A Child's Point Of View…
Reading to young children has both immediate and long term life benefits.
The immediate benefit, of course, is that it boosts their physical, language and cognitive development.
On the longer term, your child would grow up to become an avid reader in his or her own right.
Much more than that, reading enlarges the tents of the child's mind to gain insight into other people's points of view, to go on mental adventures which is a doorway to creativity, and to form strong social connections.
Reading also impacts positively on the child's mental health, as it acts as a de-stresser.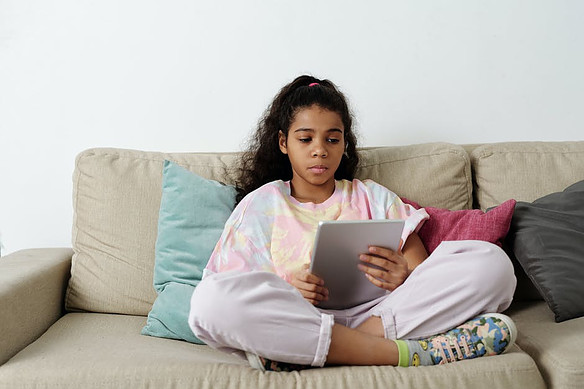 My 10 year old daughter (who is an avid reader by the way) articulates this powerfully.
She tells me:

"I kind of like reading because I get excited, I feel that I'm in the story with the characters."
She also says:
"With each story I read, I learn a different thing.
As the story is playing out in my mind, I try to picture the character in the story."
This is so profound!
You can see first-hand, the impact reading has on her reasoning, her emotional and mental health, and her imagination.
You see too, her empathy for the characters in the story.
Going Down Memory Lane…
As a young child growing up, I remember how my brother and I used to look forward to those afternoons when one of our numerous big sisters would dramatise a few nursery rhymes to us.
Or how I would curl up next to another sister, whose goal for me for the day would be to learn new vocabulary.
My brother and I loved books. We couldn't wait to go to the library at the weekends or during the holiday.
Going to the library then was such a treat! It was a time for us to get fascinated all over again!
My late dad added a more fun dimension to our reading experience! He was the master of the thrill. God bless him! He ensured that colouring and activity books were always at hand to keep us engaged.
Oops, I forgot to mention that there was always music beaming from his radiogram and later on his stereo set to liven things up.
As if that wasn't enough, he would record our voices (cousins and neighbours children included) in his cassette player/ tape recorder as we read out our poems, sang our nursery rhymes or told stories. It was a thrill, I tell you!
Carrying Forward The Tradition…
Fast forward, as my elder ones left home to start their own families, they didn't leave this tradition behind.
As an aunt, I often read to my nephews and nieces, as their mums did to me.
Naturally, when I became a mum myself, books and nursery rhymes were an integral part of my children's infancy. I introduced it to them way before they began to talk.
I didn't quite know or understand the benefits of introducing books to children that early, but I can say in retrospect that it made  learning and conversation very easy for them.
So then, you might want to ask:  What are the benefits of reading to babies and young children?
Over the top of my head, I can tell you that, reading to your child from infancy is one of the greatest gifts you can bestow on his or her confidence, cognitive and language development, not to mention the special bond that develops between you two in the process.
In addition to these, you create an enabling environment for your child to think independently.
The Seven Reasons Why It's Important To Read To Your Baby Early…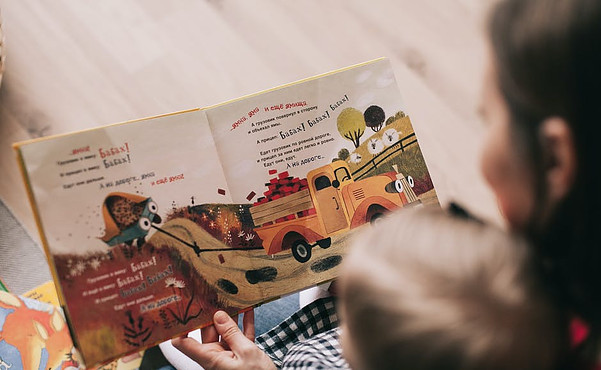 Like I said, earlier, I didn't really realise the benefits of reading to my children or should I say, I took being read to as a child and reading to my children for granted.
I just thought it was something you ought to do!
Florence Omotayo Ajala, a doctoral researcher in early childhood studies at the Mary Immaculate College, Limerick, Republic of Ireland, outlines the importance of reading to children, even as early as during pregnancy.
Her explanation helped to put things into perspective for me. I hope it will do the same for you as well.
She said that research has shown that reading to your unborn child is of tremendous benefit, as he or she is exposed to words sooner than later.
The advantage of this is that your baby would have stored within him or her, a rich reserve of words which will help enhance his or her literacy and communication skills effortlessly in the future.
Ajala said:
" The importance of reading to a child during pregnancy is that the child will learn words and will be exposed to words."
This, she said, can help them to become better at written and verbal communication.
As you know, being able to communicate is a powerful and well sought after tool.
It's vital for every stage of life and helps to foster harmonious relationships at every level of human interaction.
According to Ajala, there are six important reasons why you should read early to your child.
# Physical Development
The simple act of your child flipping through the pages of the book as you read to him or her, does great for his or her physical development.
By flipping through the pages, the child gets to  feel the texture of the book and exercises the use of his or her fine motor skills (using the fingers and wrist) in the process.
I particularly like textured or touch and feel books. They help with the hand to eye coordination.
# Intellectual / Cognitive Development
Reading to your child helps to develop his or her intellectual/ cognitive development.
Ajala says that children process words and conceptualise facts through the use of their imagination.
When my last child was much younger, I did a lot of reading to her (as I did with the rest of the brood). Our reading time was also a time for "conversations".
I would read to her first, and then proceed to tell her one of my "village stories" afterwards.
I noticed that whenever she wanted to process or conceptualise the information she was receiving from me, she would always say to me: " Mum, let me get this straight."
She would then recap what I had told her, ask questions if she needed any further clarifications, and then would draw up her own conclusions.
I believe that her early exposure to books  helped with her comprehension of information.
# Language Development
A child who's exposed to words  early is most likely to have good literacy skills.
Again, Whyte says that a child can acquire any language exposed to him or her; have a good range of sight vocabulary; and is able to  articulate their thoughts properly  in speech and writing, when read to early.
From my  experience, I noticed that toddlers or young children have good retentive memories.  
They can  memorise their favourite stories or songs   and  read or sing  them aloud  with you whenever you engage them in a reading or singing exercise.
That counts for something, I guess.
# Emotional Development
Reading helps your child to express his or her feelings.
For example, when children are  happy or excited about  a story or the outcome of a story, they  smile.  Likewise, an unhappy or sad story will make them  express sadness.
This, in some way, has  a lot to do with how you convey the emotions in a given  story or nursery rhyme or poem   to them.
Children learn by  mimicing  our expressions.  When we  express feelings or  emotions  through reading to them, they become better equipped at  expressing  their  own feelings.
# Cultural Development
Reading helps children to gain cultural awareness, if you read  books related to culture to them.
This is pretty straightforward, you can take your child on an adventure around the world by simply reading books about people and their cultures.
Your child can learn about other people's food, beliefs, and their way of life through the pages of a book.
#Social Development And Awareness
According to Ajala, reading fosters interactions between the child, their peers, and the surrounding adults.
It's a good time to bond with your child. If the child has older siblings who read to him or her, it creates a bond between them too.
Social skills and awareness are passed on to children through reading to them.
For instance, reading a story about going shopping or visiting the dentist, post office or the airport, familiarises your child with the settings and the social etiquette of those places.
In the same vein, topical issues can also be explained to children in a very simplified way when written in a child friendly manner.
Whyte has a lot to say about the role reading plays on this matter.
As an educational consultant who works with parents, teachers, and the community, her major concern especially now, is helping children cope with the current uncertainty caused by  the corona virus pandemic.
One of the methods she is using, is introducing reading sessions to the various community enlightenment campaigns she's been involved in.
She said:
When children have a  clear understanding of  what's going on around them, it has a calming effect on their mental health.
# Reading Impacts Positively On Your Child's Mental Health
The seventh reason why it's important to introduce books to your child early is that it impacts positively on the child's mental health.
Introducing books to your infant, increases the chances of him or her becoming an avid reader child, teenager and adult.
Reading is a way many people relax and de -stress themselves.
One of the things I found amusing was to see my older children (when they were younger) laugh out loud whenever they were reading a funny book.
Laughing as you well know, does magic to the mind.
Click here to read our review post: Children's Books You Ought To Buy For Your Child.
And Finally…
We know the saying that goes that readers are achievers.
You have learned today that reading is essential for the holistic development of your child.
It's never too late to start if you haven't already.
Next time, I will be telling you about the best times to read to your child and the types of books you should consider.
Until then, keep safe and please share your experiences with us by leaving a comment below.