Best Selling Inspirational And Productivity Year Planners For 2021: The All in One Digital Planner Review
About The All in One Digital Planner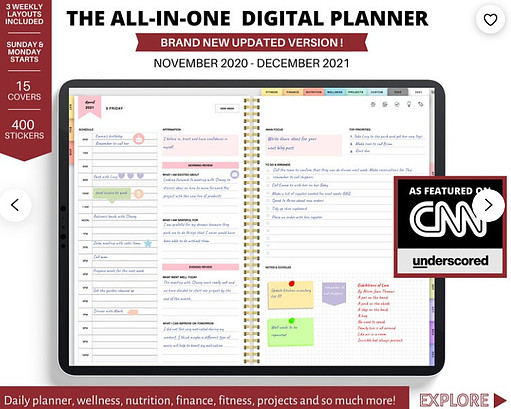 The All in One Digital Planner is by the Australian company Amethyst & Garnet, owned by Kieran Yohan.

The business started seven months and is making great strides in the digital planner space.
We've all had one form of digital planner or the other on our mobile phones or iPads; this, though, beats them all by a mile.
It's genuinely an All in One Digital Planner; a Goodnotes Planner, iPad Planner, Notability planner, Digital Journal, Daily digital Planner, and a Dated Digital Planner.
Unsurprisingly, it's received a flurry of positive reviews from happy customers and also featured on CNN.

Although Yohan says: "The planner has been created to work on any PDF annotation app or software across multiple devices," her personal preference is the iPad (with a stylus).
A Quick Overview
Planner Type
Digital
Compatible Devices and Apps
iPad with a stylus
Goodnotes
Notability
Digital File Type
PDF
Digital Files Included
Sunday start planner
Monday Start Planner
3 Weekly Layouts
Stickers Folder
Goodnotes Sticker Book
Cover File
Printable
No
Dated
Yes, Bi-Annual
2020 and 2021
Cover Colour
15 Choices of Journal Covers
Who can use it
Everyone
Price
£££ Check Current Price
Rate
9.9/10
Its Best Features
You stand to benefit from its over 30 features. I feel it's like having all the apps you'll ever need in one place, all linked together!
A satisfied customer had this to say:
I had been looking for a planner that included a daily by the hour schedule.I couldn't believe how affordable this was so I was a little skeptical. But this planner is AMAZING! So many tabs all clickable and really well organized. I'm excited to continue to fill it out.
It'll prompt you to think towards achieving your fitness, wellness, nutritional, and financial goals, and other things you hope to accomplish, as well as organise your daily life with the tools it provides.

Some of the tools made available to you are:
Yearly Goals Planning
30 Day Challenges
Monthly Reviews
Monthly Time Tracker
Debt Pay Off Tracker
Finance Tracker
Savings Tracker
Food Journal
Monthly Steps tracker
Recipe Pages – hold up to 40 recipes
Delivery Tracker
Priority Matrix
Fitness Goals
Hydration Trackers
Sleep Trackers
Mood Trackers
Habit Trackers
Vitamins and Supplements Log
Grocery List
Kitchen Inventory
Birthday Reminders
Daily Planner Page
Weekly and Monthly Overview
Password Log
And lots more!
Why I Like it
The All in One Digital Planner is a comprehensive package; it leaves nothing out!

It helps you keep track of the most minute details of your day, from your sleep, mood, hydration, favourite recipes, grocery list, kitchen inventory, vitamins, and supplements log to what you watch and read.

That's not all. If you want to focus on self-care, goal setting, and reviews, making positive affirmations, self-reflection, prioritising, journaling, and being super organised, you might want to check it out.
Best of all, you can plan your routines and chores and set yearly, monthly, weekly, daily, and hourly goals, be they fitness, financial, nutritional, wellness, projects, and whatsoever you wish to achieve.
With it, you literally have your life in your hands! Fully equipped with the resources you need to avoid new year's resolution failures in 2021.
And guess what, you can get it instantly; all you need do is download it.
Above all, your thoughts are locked away from snoopy eyes if you set a password to your device.
Just So You're Aware
Be aware that this excellent planner isn't suitable for mobile phones.
The developer says that there're no plans to do any mobile versions as a mobile phone version wouldn't be efficient.
While it's pitched as "human-centric" by the developer, I feel it may take a little getting used to for someone who's new to the world of digital planners, because of the over 30 features to get acquainted with.

Yohan doesn't accept returns, exchanges, or cancellations.
The Pros And Cons Of The All in One Digital Planner
Pros
You'll Get Your Planner Instantly 
Because it's a digital product, all you need is to download it: no shipment delays or costs.
Your Thoughts Are Safe
You don't have to worry about anyone sneaking into your thought space. You can keep people out by simply setting a password for your device.
You Won't Have To Break The Bank To Get One
This planner is very affordable and within your financial reach. You don't have to break the bank to get it.
You Get More Than What You Paid For
The value you get from it is much more than what you paid for.
You Don't Have To Be Tech-Savvy To Use It
The planner comes with an instruction page, which one customer describes as AMAZING.
She says:
"…You do not need to be well-rehearsed with digital planning or tech-savvy with the hard work she has put into EVERYTHING."
You Get Excellent After Sales Services
After you buy this product, you aren't left on your own to grapple with things.
You can contact Kieran at any time to help you with your queries. She'll respond within a few hours!
The owner was awesome reaching out to make sure it works and I'm thrilled with how well it fits every part of my life! This planner is so convenient and has everything I could need

A customer review
Cons
You Can't Use On It Your Mobile Device
This product isn't suitable for mobile phones, you have to have an iPad to use.
You Can Only Use it For A Limited Period Of Time
Because it's dated you can only use for a limited period of time.
Conclusion
 This planner is all encompassing, it's like having all the lifestyle apps you'll ever need at your fingertips.
There're no shipment costs, delays or restrictions. You can download it instantly from any corner of the globe.
It being time specific isn't much of a bother as most calendars, diaries, or planners come anually or bi-annually.
Besides, the product will have updated editions for future years.
All in all, I think it's a good product. Since your information is stored digitally, you have no fear of it falling apart or you losing a sheet or two of vital information.
Please feel free to leave a comment. Thank you.
The All in One Digital Planner
£12.09