Best Selling Inspirational And Productivity Year Planners For 2021: The Inspirational Undated Weekly Planner
About The Inspirational Undated Weekly Planner

The Inspirational Undated Weekly Planner is a handmade diary by a United Kingdom-based stationery and lifestyle inspiration company, The Inspired Stories.
The business started in 2016 with their first yearly planner for 2017 called Dear Diary, according to Baiba, the Chief Balance Keeper (Operations).
Baiba also said:
"This planner's design allows you to start using it any time of the year and make detailed plans for the upcoming months.
7am – 7pm schedule with 30-minute increments gives you space to assign time blocks, which a lot of our customers have found especially helpful now, with so many of us working from home and needing extra motivation and schedule to our days."
Designed and made in Europe, it's  dainty and   ideal  for  mums who prefer a physical diary to write into.
Super high quality and so detailed. Absolutely love it! Took a while to come but that's only because Royal Mail delays & over New year time. Cannot fault the planner or their customer service. Love it!

A Customer Review
Demo Video
A Quick Overview
Planner Type
Handmade
Material
Soft Faux Leather Flexible Cover
Size
 168 x 240mm
Weekly Spread
216 Pages
Appearance

Gold Foil Detail On Cover
Pocket In The Back
1 Bookmark Ribbon
Elastic band closure
Ivory 100gsm FSC Paper

Designed And Made In
Europe
Returns Accepted
Yes
Company Policy Applies
Personalisation
Yes (With Up To Five Upper Case Numbers)
Delivery Time
Ready To Dispatch Between 1-3 Business Days
Delivery Cost
£7
Available Colours
Biege And Sky Blue
Dated
No
Price

££££ Check Current Price

Rate
9/10
Its Best Features
The Inspirational UNDATED WEEKLY PLANNER is an excellent tool for goal-setting, habit-tracking, and preparing your to-do lists.
With these in place, you'll be super organised to tackle your day.
Whether you love motivational quotes, gratitude prompts, self-reflection, or self-improvement, this planner will become a valuable asset in helping you avoid new year's resolution failures in 2021.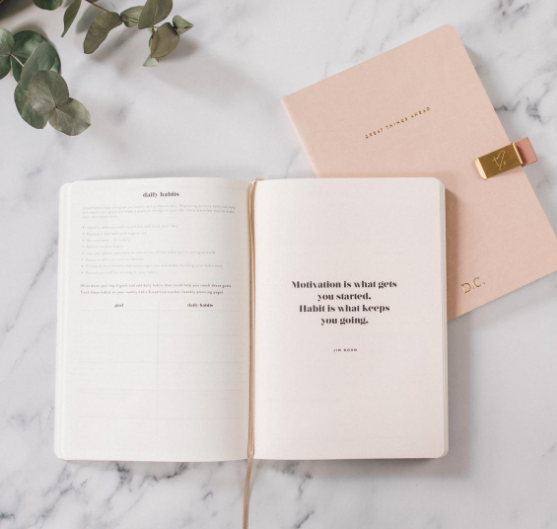 It encourages you to set goals and to write down the actionable steps required to reach them.
You can also do a three-month review of your goals to track your progress.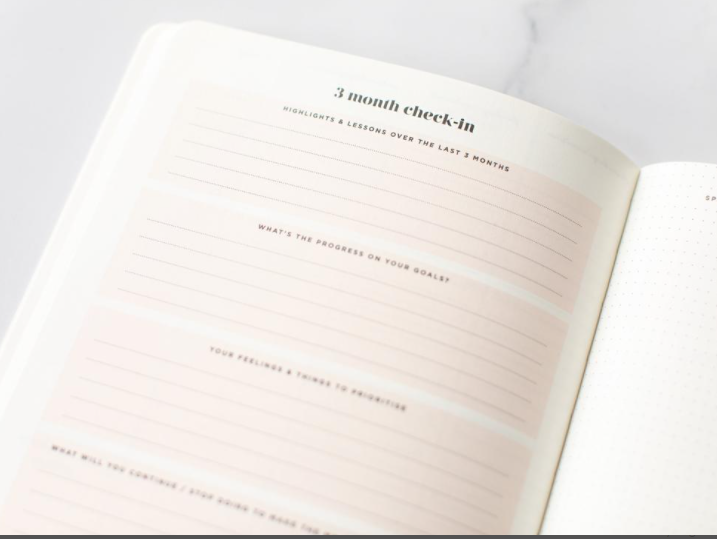 It's ideal for those who still prefer to write down their thoughts on actual paper.
They've created a really useful structure but also lots of space for your own ideas. Love it!

A Customer Review
Why I like It
The Inspirational Undated Weekly Planner helps you stay organised. You can actually plan six months ahead, and it is simple enough to use.
You can set clear goals and write down the actionable steps you require to reach them, which is crucial in goal setting.
 You can track your progress, review and realign your goals, if necessary.
You can give them out as gifts to your family and friends.
Also, being undated means, you can get it at any time of the year; it doesn't go out of date.
In addition to all of the above, you'll get good customer service from the company to assist you with your queries.
Just So You're Aware
Be aware that you may need more than one diary in a year.
There's the likelihood that some of the pages may rip since it's paper.
Your thoughts may not be as private as you want. Anyone can snoop around it to read your most personal reviews. Do keep it safe.
The Pros And Cons Of The Inspirational Undated Weekly Planner
Pros
You'll Get A Good Quality Product
You'll get the right quality product. The finishing is elegant and impressive.
You'll Have Enough Room To Pencil Down Your Thoughts
You'll have enough room to pencil down your thoughts and plans.
The sections and lines on the pages are generously laid out to accommodate your thought flow.
You'll Get Organised
The quality is lovely, I feel so much more organised!

A Customer Review
Cons
You May Find The Paper Thin
One customer wished that the leaves could have been a bit thicker, as she felt they were somewhat transparent.
You May Find It Pricey
You may find it pricy at £29.00. An additional postage charge still applies, which shoots up the price further.
You May Have To Buy More Than One In A Year
The journals are made in such a way that you may have to purchase them twice a year.
You may find it costly because you'd be spending twice as much for it.
One customer said:
"The quality is impressive. Will …purchase from you again.
 However, I would love it if you made a journal to last the full year. As can be quite costly buying this twice a year."
Conclusion
Overall, I think the Inspirational Undated Weekly Planner is impressive.
If you want to keep track of your habits, exercise, to-do lists, or even practice positive affirmation and gratitude, journaling, self-reflection, self-care, or reviewing your goals, you might want to check out this planner.
 I love it! I recommend it to all mums, the highly motivated and the overwhelmed.
Please leave a comment below.