Best Selling Inspirational And Productivity Year Planners For 2021: The 2021 Creative Planner and Prayer Map Review
About The 2021 Creative Planner and Prayer Map
Barbour Publishers publish the 2021 Creative Planner and Prayer Map in Uhrichsville, Ohio, United States.
According to them, they're one of the leading Christian book publishers in the States, "producing more than 200 frontlist titles per year".

They have an impressive lineup of best-selling and well-known authors like Josh McDowell, Jonathan McKee, Debora Coty, Stephen M. Miller, Wanda E. Brunstetter, Gilbert Morris, Olivia Newport, Michelle Griep, and others. And an array of inspirational, fictional, and devotionals that are deeply rooted in the scriptures.
The 2021 Creative Planner And Prayer Map is tailor-made for women of all ages, who love to start their day with prayers, and is useful for your personal, work, or school use.
If you want something handy that will fit into your handbag or backpack without getting in your way, then you should consider this 240-page, two colour, spiral bound creative planner.
A Quick Overview
Title
The Prayer Map, 2021 Creative Planner
Publication Date
July 2020
Author
Barbour Staff
Publisher
Barbour Publishing
Format
Spiral-Bound, Soft Cover
Number of Pages
240
Dimensions
8X6X1/2 "
Weight
10 ounces
Dated
Yes
Who It's For
Women Of All Ages
Design
Two-Colour Interior Design
Price

££££ Check Current Price


Shipment Costs May Apply
Rate
9.3/10
Its Best Features
One of its best features is the monthly prayer map. As women and mothers, you'll agree with me that we do have a lot on our plates.
We naturally will fall behind on many things, chief among them, a meaningful and heartfelt prayer life.
The monthly prayer map is a way to help you stay on track with your spiritual life.
To every plan, you can say a prayer.
You'll have a selection of encouraging prayers and scriptures at every turn.
You have your calendars,goal-setting and to-do list prompts, a year-at-a-glance section, and space to record frequent contacts.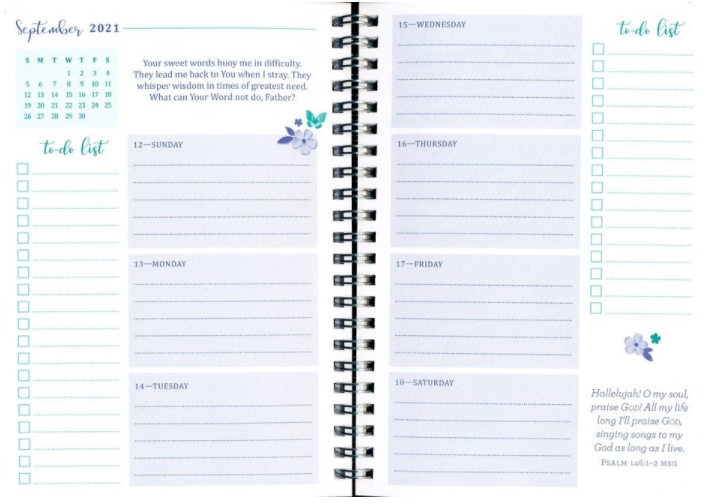 It's well laid out with prompts to pray for ourselves and others.
With this resource, you can express your gratitude to God, and also tell Him about your needs and worries in a precise, intimate and personalised way.

There's room for you to do some self-reflection and self-appraisal too.
Equipping you with the resources you need to avoid new year's resolution failures in 2021.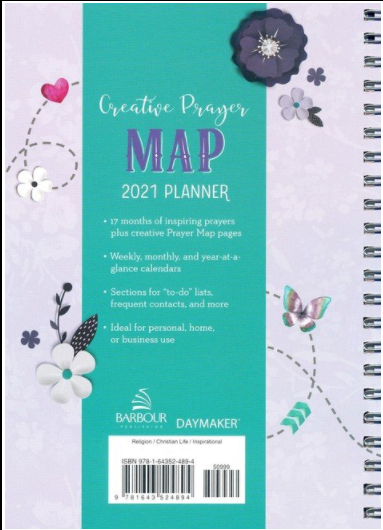 I love a journal type calander. This one also includes a prayer map for each month. It is sturdy. The only drawback for me is the date space is a bit small. Perhaps this is due to the size of the calander. Whatever.. I am pleased with this purchase.

A Customer Review
Why I Like It
I would say that this planner is a prayer aid.
The life of a mum is a hectic one. There're days when you let so many things slip by, including your prayer time.
This creative planner and prayer map helps you get organised in both your spiritual and everyday life.
I like it because it allows you to document your prayer requests to keep track of all your answered prayers.
By so doing, you become more thankful for all your many blessings, encouraged in your faith, and emboldened to pray more.
Most importantly, it's designed to help you pour out your soul to God in a thoughtful and meaningful way, in addition to setting your goals, accomplishing your tasks, and reflecting on your day.
Just So You're Aware
You may not have as much privacy with your thoughts as with the case of physical journals, so keep it safe.
Also, watch out for the spiral-bound covers, as they have a way of falling apart after a while.
The Pros and Cons of the 2021 Creative Planner and Prayer Map
Pros
You'll Get Good Value For Your Money
This product is of good quality. It's sturdy, and the paper is thick, so you have no fear of ink bleeding into the bottom page.
You'll Find It Easy To Use
You'll find it easy and straightforward to use. It's not complicated with too many prompts.
Your Prayer Life Will Be A More Personal And Intimate Experience
It's not an intimidating prayer book that'll make you feel too far away from God. Instead, it personifies God in such a way that you can approach Him as your father.
You Pray With Purpose And Intention
One of this planner's advantages is that it guides you to pray intentionally with the prompts it's provided.
You pray with purpose and intention.
Cons
You May Find The Write-In Spaces Too Small
You may find the spaces too small to write in.
You May Have Durability Issues
I always find spiral bounds tricky because they tend to fall apart quickly. Also, the risk of it ripping and leaves falling off is high because it's paper.
Finally…
I love it! It's a must-have for the mum who needs help with her daily prayer routine.
Having a yearly planner is essential as it helps you to stay focused on your vision.
However, if you wish to make the most of your planners, you must be consistent in your day to day actions.
To win this year, mums, your goals must be SMART: Specific, Measurable, Achievable, and Time-Bound. 
Remember… "Until you do something about it, nothing can be done about it."
Please leave a comment below and feel free to share this post. Keep Safe and see you soonest.