Shopping For Your Baby's Disposable Nappy Essentials
Shopping for your baby's disposable nappy essentials like anything else in babyland, isn't just  a one size fits as stated in my previous post, some important factors to know about baby diapering.
You become a student all over again, constantly learning new things and discarding things that didn't go quite as planned.
It's a process of discovering easier ways of doing things as well as rediscovering things you  may  have forgotten.
Shopping for your baby's disposable nappy essentials require learning about  options that are available for you to choose from.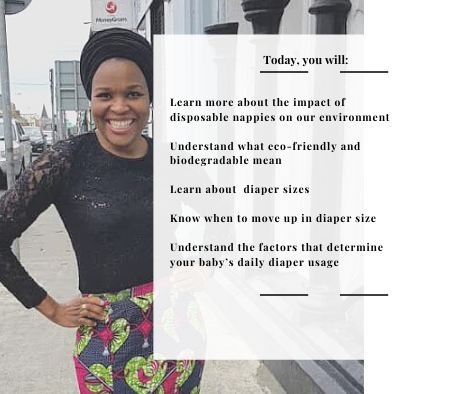 The two options open  to you are ecofriendly and conventional disposable nappies.
I will also be reviewing some  eco-friendly disposable nappies brands. Kindly refer to our  affiliate disclosure  for more information.
Eco-friendly or Conventional Diapers
In shopping  for your  disposable nappy essentials, you would have to consider  the ecofriendly and conventional options.
Eco friendly disposable nappies are pitched as the best alternatives to  the conventional ones based on the idea  that they are better for both baby and the environment.
What Does Eco-Friendly Mean?
Eco-friendly means harmless or safe  for  the environment.
Eco-friendly disposable nappies are friendly to the environment  since they are  made up of a very high percentage of biodegradable materials, void of phthalates, heavy metals, PVCs, Chlorine, lotions, perfumes, HCHO just to mention but a few.
What Does Biodegradable Mean?
When a material is biodegradable, it means it's made from plant based materials like corn starch, bamboo, and wood pulp, which can be broken down easily by the microorganisms ( for example fungi and bacteria) in the soil.
These microorganisms create an enabling environment for biodegradable materials to break down into carbon dioxide, water and organic materials that become  pretty much indecipherable from the soil.
Are They Best For The Environment And Your Baby?
I have no shadow of doubt that eco-friendly disposable nappies are good for your baby because they are made from natural  materials  that are in most cases sustainably derived.
Natural is always a  better option.
That been said,  how they impact on the environment is the crux of the matter.
This is where  I believe more needs to be done.
Why? Because the production of eco-friendly disposable nappies is only half the journey.
For the effort to be meaningful, steps have to be taken by mainstream waste disposal companies to incorporate disposable nappy compost programs into their services.
The Lack Of Disposable Nappy Compost Services
The Nappy Lady, an independent specialist cloth nappy retailer in the UK, says:
In Ireland, the leading waste disposal companies don't have separate bins or diaper compost services for biodegradable disposable nappies.
When asked if they do, the response was: " No…They just go into your general household waste bin.
The nappies can't go into the compost bin because they are human waste.
The brown bin is designated for kitchen and garden wastes only".
The situation of things at the moment is that both eco-friendly and conventional disposable  nappies are disposed of  in the same way.
Disappointingly, we  know that the final destination for the "regular domestic waste stream" is the landfill sites.
The Landfill Sites
Sadly, the sites are specifically built to store or bury waste. It will be nearly impossible for the biodegradable disposable nappies to decompose there.
To biodegrade, they must be broken down naturally by the microorganisms in the soil. (You can read about  the cost of disposable nappies on the environment here).
A landfill site isn't meant to enable biodegradation. Instead, it's designed as an oxygen-free environment where the waste is meant to be kept dry and isolated from groundwater.
Unfortunately, water still finds its way into them from rain or snow and from within the waste contents.
This mixture of garbage and liquid unwittingly boosts the production of toxic chemicals like leachate and methane which are harmful to the planet.
The bottom-line therefore is, for eco-friendly disposable nappies to be truly beneficial to man and nature,  a  system  has to be put in  place where they are composted on a commercial scale so that they truly biodegrade.
Until this process  is embraced by mainstream refuse disposal companies, the purpose of eco-friendly disposable nappies is only half achieved!
---
The Top Eco-Friendly Disposable Nappy Brands
Now that we have learned about the impact of  disposable nappies on the environment,  I will be reviewing some of the leading eco-friendly disposable nappies.
(Kindly refer to our affiliate disclosure for more information).
Please bear in mind that experience with a particular brand could vary from mum to mum.
Eco by Naty Nappies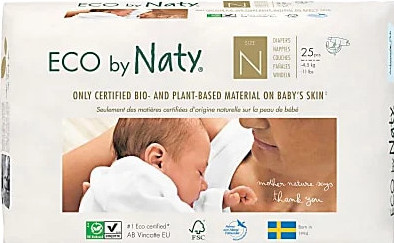 Credit: Big Green Smile UK
About Eco By Naty Nappies
This is an award winning brand made from natural and renewable material.
It's FSC, GOTS and Vincotte OK Biobased certified amongst others. It has the "Good and Environmental Choice" Eco label from the Swedish Society For Nature Conservation.
The manufacturer attests to the fact that they use bio-based and plant-based plastic wherever possible.
They also say that even though their nappies are not made from 100% bio-based or plant-based materials, they are proud of the steps being taken to provide their consumers with an environmentally friendly nappy.
The Eco by Naty Nappies are  flat and smooth on the outside and also soft on the inside.
Made of wheat and corn starch for absorbency, they come in various sizes.
The Pros And Cons Of The Eco By Naty Nappy
Pros
Affordable
Fragrance chlorine, lotion, latex, and dye free
Kind to baby's skin
GM free corn based film
Stretches at the wings
Biodegradable
Cons
Parents complained of leaks
No wetness indicator
Bulky when wet unlike the regular disposable diapers
The seams around the legs could rip off easily
Its sticky fastening doesn't stick well  and sometimes rips off all together
---
Bambo Nature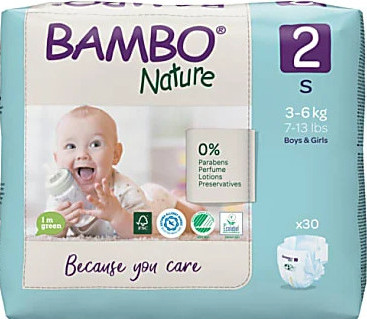 Credit: Big Green Smile UK
About Bambo Nature
The company says that more than being 100% safe for your baby and the number one eco-friendly diaper in the market, they work in a production facility where 95 % of all production waste is recycled.
It has certifications such as the Nordic Swan Ecolabel, the Nordic Ecolabel and Asthma Allergy Nordic label  under its belt.
The Pros And Cons Of The Bambo Nature Nappy
Pros
Fragrance chlorine, lotion, latex, and dye free
Breathable back sheet
They are dermatologically tested
Thick lining and soft texture
A good fit
Wetness indicator
Eco Friendly
Flexible wings or panels
Cons
Leaks and can't be used overnight or over a long period
The core of the nappies disintegrates
It rips open at the seams
Parents complained about gel-like substances on children's diaper area
This new version is thinner than the previous version. Although the manufacturer claims that it has the same performance as always, it is found to have leaking issues.
---
Babyganics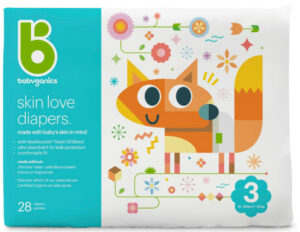 Credit: Babyganics
About Babyganics
Babyganics is an American brand disposable nappy that has been in the market since 2008.
The company prides itself as producing products that are made with baby's and families in mind.
They say their diapers are "considerate of the planet".
The company has both the USDA and NEA Seal of Acceptance certifications.
Having the NEA Seal of Acceptance certification implies that their products are safe for sufferers of eczema and other skin sensitivity issues.
The company appears to be very clever in their description of the ingredients in their nappy.
For example, they say: "Our super absorbent core blend is made with renewable, plant-based material that reduces the amount of synthetic SAP gel needed."
This explanation  leaves me in doubt as to whether synthetic gel is used in their nappies or not.
Included in their nappies is the Neo Nourish oil.
This blend is  specially formulated to help support baby's skin, they say.
The Pros And Cons Of The Babyganics Nappy
Pros
Wetness indicator
Plant based and wood pulp core
Stretchy side wings and cuff
Stretchy tabs and closure
No sagging when full
Chlorine, latex, petroleum based lotion, and perfume free
Cons
Non-biodegradable
Leakage issues
---
The Honest Company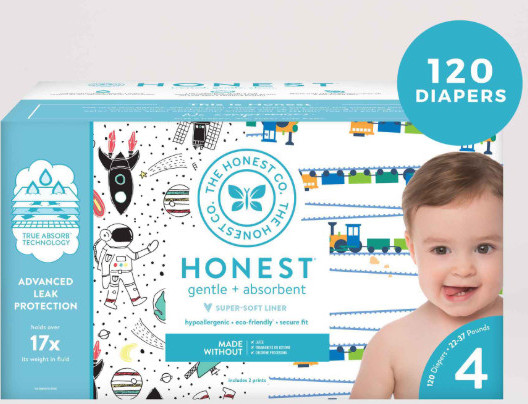 Credit: The Honest Company
About The Honest Company
This is an American company founded by actress Jessica Alba.
According to their website, the singular purpose of the company is "to create safe, effective products for our families and yours."
To this end, they boast that their disposable nappies are hypoallergenic, eco-friendly, and has a  secure fit.
How honest is the Honest Company?
In February 2018, the company paid out a sum of $210.25 each (totaling $1.5M) to Top Class viewers who filed for a valid claim against the company for false advertising.
It was alleged that 41 of their products were found to contain synthetic and toxin chemicals like  phenoxyethanol and methylisothiazolinone, despite being advertised as natural and free from harsh chemicals.
The company responded to the suit by releasing the statement below:
This is the second of such class action suits filed against the company. The first being in September 2015.
The Honest disposable nappies are promoted as being made from mostly biodegradable and plant based products which are sustainably derived.
The Pros And Cons Of The Honest Company Nappy
Pros
Super soft
Stretchy panels
Secure fit leg cuffs
Comfortable
Fluff Pulp
No Chlorine, latex, fragrance, or lotions
Cons
Sticky tags not secure, it  rips apart and falls off
Absorbency issues, leaks  wee and pooh
Parents complained about nappy rash
Their  size four is  too small if you go by the standard diaper size chart
Also See More Collections On Amazon
My Take On Eco-Friendly Disposable Diapers
My final take on eco-friendly disposable diapers is that, parents' opinions of them vary.
A brand that is highly praised and recommended by one parent could turn out to be a monumental flop and a nightmare to the other.
A good way to go about this may be to buy a few at a time. Try them out for yourself.
I guess like anything else, you may have to do a  trial and error or an elimination process.
If you choose to stock up, buy one or two small packs for a start and be sure to check the expiry dates before you buy.
Keep your receipts just in case you need  to return, exchange or want a refund.
We have had quite a detailed look at eco-friendly disposable nappies, next we will be looking at buying the conventional disposable nappies.
Buying Conventional Disposable Nappies
While it is the expectation that we all will in time move towards using eco-friendly  disposable nappies, there are still some of us, who aren't there yet.
Some prefer the conventional brands because they believe they are tried and tested in terms of absorbency, durability, leak lock system, long hours of protection, wetness indicator, umbilical cord cut out, grip and firm fit and so on.
This doesn't mean that there are no concerns.
The fear of harsh chemicals being put on baby's skin, and the  use of PCV, latex and other non-biodegradable materials is one of the greatest setbacks for conventional disposable nappies.
To tackle this problem, mainstream manufacturers like Pampers and Huggies have introduced products that are plant based, breathable, hypoallergenic, dermatologically tested, and free from harsh chemical ingredients.
It is my belief that in time, these manufacturers would produce eco-friendly nappies that would stand shoulder to shoulder with their age long conventional brands that have continued to lure mums away from the eco-friendly aisle.
(Kindly refer to our affiliate disclosure for more information).
Huggies Little Snugglers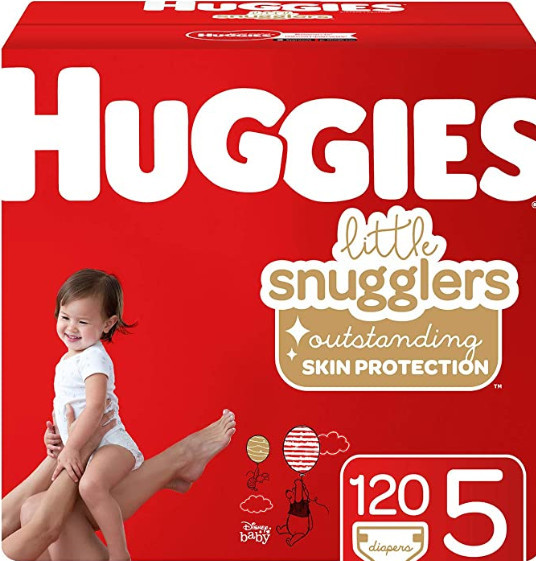 Credit: Amazon
About Huggies Little Snugglers
Huggies Little Snugglers is an American brand diaper produced by Kimberly Clark.
The company was founded in 1968 and stands as one of the pioneers of the modern disposable diapers.
The Huggies Little Snugglers is a hypoallergenic, latex, fragrance, lotion, chlorine, and paraben free disposable nappy
It has  a pocketed back waistband and well secured leg cuffs that trap in blow outs, leak lock system that can contain leaks for more than 10 hours, and a GentleAbsorb liner that shields baby's skin.
A new mum told me that Huggies Little Snugglers came highly recommended.
The wetness indicator gave her a real time notice on when to change the nappy.
She also loved the brand because it has a cut out for the baby's umbilical cord.
The only minus for her is that it doesn't  go up to size 7.
The Pros And Cons Of The Huggies Little Snuggler Nappy
Pros
Super soft and breathable
Stretchy panels
Secure fit leg cuffs
Comfortable elastic waistband
Wetness Indicator
Umbilical cord cut out
Hypoallergenic
Fluff pulp
Parabens, latex, chlorine, fragrance, and lotion free
Cons
Doesn't go up to size 7
Not eco friendly
Fastening tags not secure
Parents complained  about leakages because they couldn't contain blowout
One of the reasons why diapers  leak is  because  they are either  too big or  too small.  The leakage issues are solved when  you use the correct size or  move up to the next size.
Why Do Diapers Leaks?
Diaper Size Chart
Below is a diaper size chart  that shows you  size, weight, age and average number of diapers used per day by baby.
Please note that this chart is only a template to help you navigate through the process of determining the correct diaper size  for baby, and the average daily quantities that your baby is likely to use.
Every baby is different. Some may weigh more or less than what's been designated.
| SIZE | WEIGHT Ibs./Kg | APPROX. AGE | AVERAGE NUMBER OF DIAPER USED PER DAY |
| --- | --- | --- | --- |
| Preemie | Below 2.5Kg | Born Before 36 Weeks Of Pregnancy | As Required |
| Newborn | Up-10lbs/ 4.53Kg | 0 -1 Month | 6-10 |
| 1 | 8-14lbs/3.63-6.4Kg | 2-4 Months | 6-10 |
| 2 | 12-18lbs/5.4-8.2Kg | 4-7 Months | 6-9 |
| 3 | 16-18lbs/7.312.7Kg | 7-20 Months | 5-7 |
| 4 | 22-37lbs/9.9-16.8Kg | 18-48 Months | As Required |
| 5 | 27lbs/12.2Kg | Older Than 3 Years | As Required |
| 6 | 35lbs/15.8Kg | Older Than 3 Years | As Required |
| 7 | 41lbs/18.5 Kg | Older Than 3 Years | As Required |
Knowing Your Baby's Diaper Size
The rule of thumb will be to go by your baby's weight rather than age when deciding on the diaper size to use.
A baby's weight isn't always determined by  age as there are many things that can affect it.
A diabetic mum more often than not would have babies with a higher birth weight.
Also, slimmer, and small statured mums tend to have small babies.
Other factors like congenital abnormalities, medication, race, and fibroids also directly impact  on a baby's weight.
I am on the slimmer side, hence had babies who weighed between 2.7Kg- 3.5Kg at birth.
I would have been  emotionally wrecked, if I didn't understand that the charts were just a guide for helping   me to  choose the ideal diaper size for my baby, and not an index of  healthy weight!
The milestone checkups done at your local health centre or at your doctor's are the most important indicators of your baby's growth.
The weight on the  chart above  is a guide to knowing the most suitable diaper size for your baby.
Factors That Determine Your Baby's Daily Diaper Usage
Every baby's diaper usage is different. Some babies have more soiled diapers than others. I would say that the factors that determine your baby's daily diaper usage  are more complex than clear cut.
I couldn't predict to say that if you do this, then this will happen.
Numerous factors  come into play on  this subject, therefore, to simplify things, I would look into the aspects of feeding and teething.
Feeding
Your baby's bowel movement is largely dependent on what he or she eats  and your diet.
This is assuming  that your baby has no underlining health issues.
For this, I would be looking at breastfeeding, bottle feeding, semi solids and new meals.
When You Breast Feed
It's believed that breast fed babies have more frequent and easy bowel movements than babies that aren't. This is because breast milk is natural and easily assimilated.
A 0-4 months old baby who is breast fed exclusively, should have up to an average of between 8-10 diaper changes a day or sometimes more, depending on how many times  him or her is fed  and the baby's own metabolism.
That said and sometimes too, breastfed babies occasionally go for days without soiling their diapers for no apparent reason.
When this happens, they usually don't experience any discomfort or  have a distended stomach. They move their bowels when they are ready to do so.
The reason for this isn't that they are constipated.
The worrying part of this  though, is that,  they could strain when pooing.
My advice would be to  seek  professional help  to be doubly sure that all is well with your baby.
When You Bottle Feed
There is also a general belief that bottle fed babies are more likely to be constipated than those that are breastfed.
Mums who opt to bottle feed are always advised to give their babies water to avoid the risk of constipation.
The composition of infant formula warrants this practice.
Follow Preparation guidelines
Another thing you must do, is to comply with the preparation guidelines. Always prepare the formula as directed.
Avoid the temptation of heaping up the scoop when the instruction states a level scoop plus always use the stipulated amount of scoops with the corresponding quantity of water.
Doing this, allows for the right consistency for baby and also ensures that  baby is receiving the correct nutritional needs for his or her age.
Sterilise The Bottles, Wash Your Hands And Avoid Touching The  Teats
Make sure that your baby's bottles are properly sterilised. You should wash your hands before and after preparing baby's meal. Finally, as much as possible, avoid touching the feeding bottle teats.
These measures have  to be taken to prevent the introduction of bacteria  into your baby's system that could cause diarrhea.
Following the preparation instructions, in addition to giving your baby some water could reduce the chances of your baby getting constipated or having those frequent  runny smelly stools.
In spite of all this, not every bottle fed babies will experience constipation or diarrhea.
Introducing Semi Solids And New Meals
Introducing semi solids or a new meal into your baby's diet could be another factor that may affect your baby's daily diaper usage.
Some children react adversely when  introduced to semi solids or a new meal.
This happens because prior to this time, all that they have been fed with was milk.
Semi solids have a different composition and texture from milk. They  aren't usually a problem as some babies  eat them without any hitches.
But there are those, who would react to the introduction of new food or semi solids by having an unsettled stomach.
They may  stool more frequently  than normal, until their digestive tract adjust to the new food.
Your Diet
Your diet if you breastfeed exclusively could affect how frequently your baby poohs. It could constipate or run your baby's  tummy.
As a breastfeeding mum, you need to eat healthy meals, rest, and stay hydrated in order to lactate properly.
Stay Hydrated
To stay hydrated you must drink enough water. Remember that breast milk is 80% water.
Failure to do so could cause both you and your baby to be constipated.
Avoid Hot And Spicy Food
Eating very hot and spicy food could  induce a runny tummy in your baby. So, for your baby's sake, you might want to cut down on the spice in your food.
Now, let's talk about  how teething may or may  not affect your baby's bowel movement.
Teething
There are varying perceptions about what happens when your baby begins to teeth.
There are those who think you have more diaper changes when this happens. There are  also those who  think contrary to the former opinion.
A point we will have to agree on is that babies react differently to teething.
Some babies come down with a fever or  diarrhea.
This may not be as a result of the  teething process in itself but because of how the babies react to it.
What Happens When Your Baby Starts Teething
This is a very normal part of your baby's development.
The teething phase begins to kick in from around three months upwards, around the same time when the immunity your baby got from you is starting to wear out.
This is also the phase  when your baby is beginning to  crawl around to explore  his or her surroundings.
When your baby starts to teeth, his or her gum gets  inflamed and itchy.
In other to sooth the itch, they have the natural tendency  to put   any  object they find around into their mouths  to help ease the condition
Why Your Baby May  Stool  More
This natural instinct introduces bacteria into the baby's system.
Now, depending on the amount of  bacteria  taken  in and the level to which the baby's immunity has developed, the bacteria  that has been introduced can rapidly  multiply.
This in turn will  lead to  an inflammation in  the digestive tract which will ultimately cause frequent loose stooling or diarrhea. This may be accompanied with a fever.
All of these changes account for the reasons why there might be an increased number of diaper changes.
How to Know When To Move Up In Size
As a new mum, you may be worried about not knowing when to switch  to the next  diaper size.
One of the most obvious sign is nappy leaks. The nappy is too small to contain your baby's explosives or blowout.
This sign is a little tricky because you will also experience leaks when the nappy is oversize.
The Pamper nappy size guide says that when: you see red marks on your baby's thigh or tummy, the nappy doesn't completely cover your baby's bum or you are unable to fit two fingers underneath the waistband among other signs, then it's time to move up in size.
My Conclusion…
Every mums diapering experience is different. The features that work very well with some parents and babies  could turn out to be a nightmare for others.
I would suggest you try them out and settle for what works best for your baby.
Baby diapering after all, is about learning, discovering, rediscovering, a few glitches here and there, and getting it right, eventually.
Next time, I will be talking about reusable nappy, it's  pros and cons and some of the best brands in the market.
Kindly read and leave a comment and please remember to stay safe.
Sources and further reads