Popular Reusable Nappies GroVia ONE
About GroVia ONE
This All In One (AIO) nappy is "championed by many parents as the ultimate nighttime solution", says its manufacturer.
Founded by Kim Ormsby, GroVia is an American brand, launched by The Natural Baby Company in 2009.
It's ecofriendly and comes as a one sized nappy, suitable for babies between 10-35lbs (4.5-15kg) which is from birth to potty training.
They cost from $22.95 each.
Its Best Attributes
If you are looking for a high quality nappy that's absorbent, fits well, less likely to irritate, wicks away moisture, and one you can use for your baby's entire diapering phase, then go for the ONE.
GroVia ONE is a very popular overnight cloth diapering option yet versatile enough to be used during the day as well.
(Kindly refer to our affiliate disclosure for more information).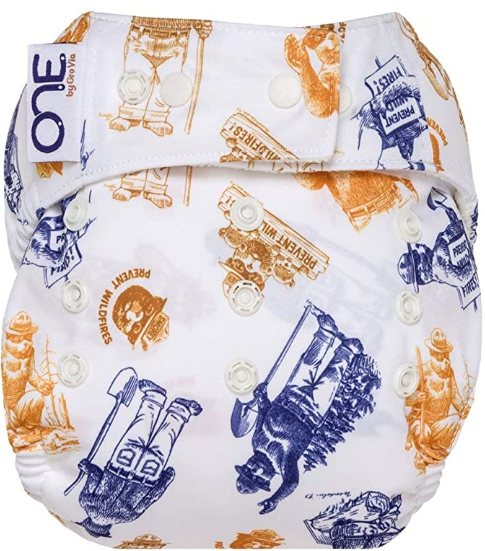 A Quick Overview
Material
Outer Shell (100% water resistant TPU )
Hidden Inner Layer (100% microfibre)
Body Lining (100% micro fleece)
Two Soakers (100% cotton topped with a stay dry 100% micro fleece material)
Size System
One Sized
Prep
The two detachable soaker pads need to be washed once before use
Style
Unisex
Type
All In One Nappy
Design
Block Colours And Prints
Price
$$$ ( Check the latest price)
Our Rating
8/10
The acronym O.N. E stands for:
Outlast Closure is a built-in closure system unique to only the ONE.
It offers parents the choice of using the Velcro hook and loop closures or the adjustable waist snaps.
No Prep is required for this diaper as all you need to do is to wash the soaker pad once and use as normal.
Easy to use, easy to put on, take off, easy to wash and easy to adjust as your baby grows and no need to stuff an extra insert for absorbency.
Although it's said to be an AIO, it has certain features of an AI2 like an outer shell.
It has  an inner fabric overlay, onto which you can attach or detach a soaker pad, except that you can't use it multiple times before washing it.
Detachable Soaker and Two Option Closure
The GroVia ONE is made up of a 100% water resistant TPU ( Thermoplastic Polyurethane) outer shell, a hidden inner layer of 100% microfibre, a body lining of 100% micro fleece, onto which are two snapped-on / detachable soaker pads.
The soakers are of two different sizes made of 100% cotton topped with a stay dry 100% micro fleece material.
The larger soaker's ridge-like surface is tailor-made to direct wee down it's absorbent core.
The Three Rise  Settings
It's rise buttons in front can be adjusted to provide a customised fit for your baby.
One mum says:
It has a Velcro and button option and is fantastic for nighttime use."
The Pros And Cons Of GroVia ONE
Pros
It's Absorbent and Stay-dry
It is absorbent and wicks away moisture from the surface because of the cotton, microfibre and microfleece materials being used.
It's Manageable
It's easy and convenient to use which makes it suitable for the creche and child minder. It also washes well.
It's Economical
This is because as a one size diaper it can be used for the length of your baby's diapering phase.
Also, the hook and loop closures can be detached which makes them longer lasting. They are replaceable at a low price too.
The two soaker pads are included in the price, so you don't have to buy them separately.
Cons
It Compromises On Fit
One size nappies always compromise on fit.
The same is true for the GroVia ONE, even the smallest setting may be too big for smaller babies. Most times, you would have to wait for your baby to grow into the nappy.
It's Unsuitable For Heavy Wetters
A mum feels it's over hyped and doesn't work well for extreme heavy wetters.
Although the diaper is dense, some mums still complained about leaks.
It Has Durability Issues
The elastics give way too fast, reducing the overall life span of the nappy.
It's Bulky And Bulgy
Another complaint is that the two inserts bulk up the diaper making it bulgy under baby's clothes.
It Takes Too Long To Dry
As with all AIOs, it takes a long time to dry.
The Velcro Is Stiff And Sometimes In The Way
There are complaints that the Velcro closure is uncomfortable because it's stiff and rubs against the baby's tummy.
However, the company can replace them if within the warranty period.
The downside to this is that it doesn't make good economic sense when you put into consideration the shipping cost for those who live outside of the United States.
HelpFul Tips
To make the nappy more absorbent, the original inserts can be replaced with hemp inserts.
Hemp is very absorbent and less bulky.
Hemp Inserts Recommended By Mums
(Kindly refer to our affiliate disclosure for more information).
Geffren Baby Super Plus Hemp Inserts
Thirsties Hemp Inserts Small
Conclusion
I think that these diapers were carefully designed for overnight use and for heavy wetters.
The types of fabric used to make them attests to this.
I'm happy with the thought that was put into trying to create a diaper that could be the ultimate nighttime solution.
The downside to this nappy is the elastic issues and its inability to hold up well for extreme heavy wetters.
I also think they are expensive.