Some Popular Reusable Nappies Loved By Mums
Opinions about the best brands of reusable nappies to buy for your baby are as different and numerous as the number of mums you ask.
That not withstanding, I 'll be telling you about some of the popular Reusable Nappies Loved By Mums.
I'll say to you, don't worry about this too much! Eventually, you will figure out what works or doesn't work well for you.
Experience they say, is the best teacher.
When you discover what works well for you and your baby, stick to it.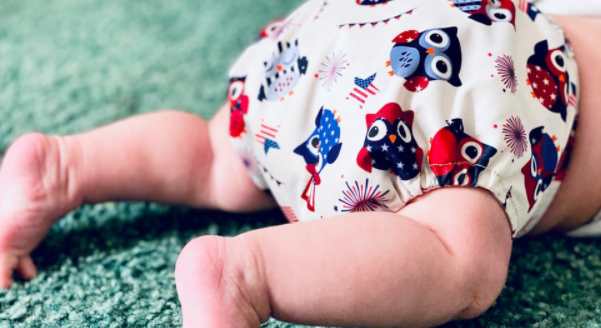 What Is A Good Reusable Nappy?
Not every nappy will tick all the boxes for you.
Still, there are certain qualities in a nappy you should never compromise on such as fit, absorbency, moisture control, no skin irritation and good value for your money.
Today, I'll be looking at some of the popular reusable nappies worth considering as recommended by mums.
In doing so, I'll be recommending some products. Kindly refer to our affiliate disclosure for more information.
It's my hope that you find them helpful… but first, let's talk about the first things first.
---
First Things First
You are already aware that cloth diapering isn't cheap initially. Depending on the options you want to go for, you will have to invest a substantial amount of money upfront.
You should be patient with yourself and with the process. You may not get it right at first but you will eventually.
If you aren't still getting a grip of things and are feeling pressured, then you can combine both reusables and conventional nappies for a time to catch your breath. Some mums do.
You can click here to read our review on some of the popular disposable diaper brands.
Bear in mind too, that reusable nappies don't have the same capacity to absorb large quantities of liquid over a long period as do disposable nappies, so be patient.
You should make use of the manufacturer's resources available to you (Apps, YouTube videos, online platforms).
You can click here to watch one of such resources, Learn how to cloth diaper by Green Mountain Diapers.
You should be informed. Knowledge, they say, is power. The more information you have about cloth diapering, the less intimidated you'd become at the prospects of venturing into it.
Kindly click here to read more about  the different types of cloth nappies and their pros and cons.
Always read the manufacturer's guidelines and instructions. You will be surprised at how these things can make life a lot easier for you.
Another important thing, is to know the right size of nappy to buy for your baby.
---
Choosing The Right Size Of Nappy For Your Baby
This is nearly always a dilemma if you're a new mum.
You'd often adhere tenaciously to the size charts as advised by the brand manufacturers.
It is good to follow the charts, but they aren't sacrosanct.
In order to be able to gauge the right nappy size, you'd have to consider your baby's uniqueness in terms of shape and height, in addition to his or her weight.
This is usually the conventional practice in determining the right size for your baby.
Helpful Tips On Choosing The Right Nappy Size
Babies that are small or with slimmer frames or flat bums are more likely to stay on the smaller sizes for longer.
In the same vein, babies that grow fast or with more rounded bums and chunkier thighs go up in size quicker.
Online Cloth diapering experts, Green Mountain Diapers, say that the medium size diaper stage is the trickiest stage as babies come in many shapes at this stage.
They say that girls typically go size up as they tend to have rounder bums than boys.
Wearing your baby, the correct diaper size is crucial for good fit and leak prevention.
If you are a first time mum, fresh out of hospital with a new baby in hand, you wouldn't be able to tell just yet!
At the same time, you would have a rough idea of how big or tall your baby might be, before he or she arrives,
You can use this information as a guide to help you decide the initial size to go for first, and then watch out for your baby's uniqueness for subsequent purchases.
One more thing you have to learn to do is how to tackle leaks.
---
Leaks Are Inevitable Yet Preventable…
In your quest to find the ultimate nappy for your baby, there will be disappointments along the way, so be open-minded and be prepared.
Among the many disappointments you might face is leaks.
It's not going to be peculiar to you, it is in fact the bane of a good deal of cloth diapering mums.
Leaks Can Be Caused By:
● Using the wrong size of nappies -too small or too big.
● Wearing the nappies incorrectly like fastening the rise buttons the wrong way or wearing the diaper backwards.
● Over stuffing with inserts and boosters so they become too bulky and gappy.
● Compression leaks – very common with microfibre inserts, you can curb this by using them in combination with hemp inserts.
● Using a light nappy for a heavy wetter.
● Worn out elastic around the legs and waist especially if bought second hand.
● Nappy losing absorbency due to washing with drying sheet or fabric conditioner.
● Worn out or damaged PULs.
● Absorbency hampered due to residual build-up of diaper rash cream on the nappies.
The list is endless…
You Can Prevent Leaks By Doing The Following:
An extra rinse cycle will prevent detergent residue build up. A detergent residue build- up can cause irritation for the baby, loss of fluffiness, softness and absorbency in the nappy which leads to leaks.
Tuck in liners, inserts, boosters, and soaker pads properly around the creases of your baby's legs and around waist area, so that they don't peek out of the nappy or wrap/cover.
Change your baby as frequently as every two hours or so during the day.
Wear him or her an appropriate nighttime nappy with soaker pads or inserts made of thirsty fabrics like hemp or bamboo, fleece liners for moisture control along with fleece pajamas (optional) for added dryness.
Finally, before you use your nappies, it'll be a great idea to prep them.
Should You Prep Your Nappies?
Not all nappies need to be prepped like the GroVia O.N. E as all you need to do is simply wash the soaker pad once and it's ready to go, according to the manufacturer.
They also say that nappies that need prepping would "require more prep time with multiple washes before being ready to use."
What is prepping?
Prepping is simply washing the nappies first before you ever put them on your baby.
According to the American online cloth diapering company Diaper Junction:
Why is prepping important?
Prepping is necessary for cleaning the nappies before use and for improving it's absorbency.
By first washing them, you remove any residual substances like chemicals or impurities passed on during the manufacturing process, and oils still retained by natural fabrics which do hamper their absorbency.
You know yourself that sometimes, your brand new towel doesn't absorb well when still very new until it has undergone a good bit of washing.
This is the logic behind the notion of prepping your cloth nappies for better absorbency.
Synthetic fabrics such as polyester/ microfiber and micro fleece are prepped differently from natural fabrics like hemp, bamboo, charcoal bamboo, and cotton.
How To Prep
Synthetic fabrics Wash them once, dry, before you begin to use them.
They don't usually retain oil residues. You prep them to make them clean and safe enough to use for your baby.
Natural fabrics  First, you wash twice (back-to-back) and then dry after the second wash cycle before use.
This process helps to remove any oil residue and improves the absorbency of the nappy going forward.
Know that a high level of absorbency isn't achieved with natural fabrics until after multiple wash cycles.
Repeated wash cycles help to fluff up the fabric to allow for better absorbency.
You can also checkout prepping guidelines from Diaper Junction.
Some Popular Reusable Nappies Loved By Mums
Nappies For Overnight Use And For Heavy Wetters
Finding a suitable overnight nappy that will give you and your baby some sort of reprieve from repeated wet nights is a challenge a good deal of cloth diapering mums face.
There are babies who actually sleep through the night without any hassle or may wake up occasionally for a feed or a drink of water.
And then there are some, whose sleep patterns are interrupted by the discomfort of a wet nappy because they are heavy wetters.
If you have a baby who falls into this category, having a nappy that can soak up high millilitres of wee is definitely going to be your greatest dream come true.
To achieve your aim of uninterrupted sleep, you will need a nappy that's absorbent, provides a customised or snug fit, dry feeling and is comfortable.
Of course, you would also like one that's ecofriendly, chemical free, easy to clean, leak proof, easy to use, convenient, durable, cost effective and so on.
Below are some of the brands that came highly recommended by mums for overnight use and for heavy wetters.
If you decide to purchase any item through any of the retailer links provided on this site, I may earn an affiliate commission as a result.This is not a sponsored post.
(Kindly refer to our affiliate disclosure for more information).
| Image | Name | Price | Buy |
| --- | --- | --- | --- |
| | GroVia One All In One Nappy | $26.95 | CURRENT PRICE |
| | TotsBots Bamboozles Night Fitted Nappy | £18.40 | CURRENT PRICE |
| | TotsBots Peenut Waterproof Wrap | £12.99 | CURRENT PRICE |
| | Cloth-eez Workhorse Fitted Nappy By Green Mountain Diapers (GMD) | $11.95 | CURRENT PRICE |
| | Little Lamb Cotton Fitted Nappy Size 2- Cloth Nappy | £10.29 | CURRENT PRICE |
| | Mother-ease Sandy's Cloth Diaper (Small, Unbleached) | $14.75 | CURRENT PRICE |
| | Mother-Ease Air Flow Cover | £14.99 | CURRENT PRICE |
| | Thirsties Duo Wrap Cloth Diaper Cover, Snap Closure, Aqua Size 1 | $13.95 | CURRENT PRICE |
| | Disana Organic Merino Wool Nappy Wrap / Diaper Cover Overpants 62/68 Natural | £22.90 | CURRENT PRICE |
Here's The Top Three Nappies For Overnight Use And Heavy Wetters According to Mums…
I will tell you all you need to know about these three nappies. I hope you'll find the resources helpful.
---
GroVia ONE Nappy
About GroVia ONE
GroVia O.N. E is "championed by many parents as the ultimate nighttime solution", its manufacturer.
It's Best Attributes
If you are looking for a high quality nappy that's absorbent, fits well, less likely to irritate, wicks away moisture, and one you can use for your baby's entire diapering phase, then go for the ONE.
A Quick Overview
Material
Outer Shell (100% water resistant TPU )
Hidden Inner Layer (100% microfibre)
Body Lining (100% micro fleece)
Two Soaker Pads (100% cotton topped with a stay dry 100% micro fleece material)
Size System
One Sized
Prep
The two soaker pads should be washed once before use
Style
Unisex
Type
An All In One Nappy
Design
Block Colours And Print
Price
$$$ ( Check the latest price)
Our Rating
8/10

---
TotsBots Bamboozles Night Nappies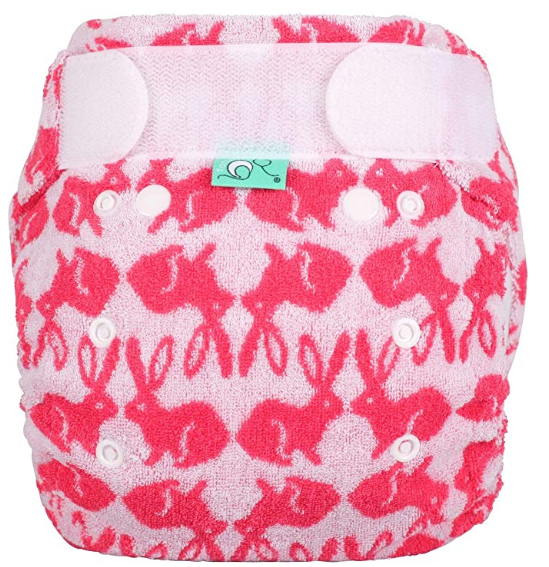 About TotsBots Bamboozles Night Nappy
The Tots Bots Bamboozles Night Nappy is a two piece system consisting of the Bamboozle fitted nappy and the PeeNut waterproof wrap.
It's Best Attributes
If you have a preemie or a small baby whose primary needs are a customised fit, comfort, absorbency and dryness, then the TotsBots Bamboozles Night Nappy is an option you may want to consider.
A Quick Overview
Material
Bamboo 80%
Polyester 20%
Size System
Size 1 Size 2 Size 3
Prep
Yes
Style
Unisex
Type
A Fitted Nappy
A Waterproof Cover Required
Design
Block Colour And Print
Price
£££ ( Check Current Price)
Our Rating
7.8/10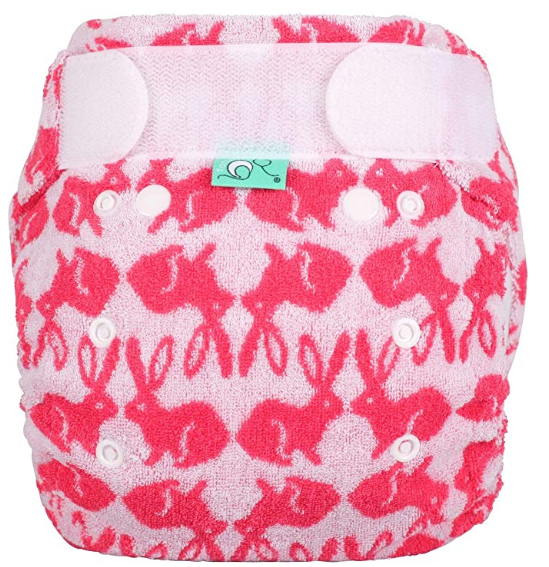 ---
Cloth-eez Workhorse By Green Mountain Diapers (GMD)
About Cloth-eez Workhorse Fitted Nappy
Cloth-eez Workhorse Fitty Nappy is a workhorse of a nappy.
The Cloth-eez Workhorse Fitted nappy is very popular within the cloth diapering community and is reasonably priced.
It's Best Attributes
If you are looking for something that's resilient, affordable, absorbent and less likely to irritate your baby's skin, then you might want to consider this nappy.
A Quick Overview
Material
Two Types of Nappies:
100% Bleached Cotton
100% Organic Cotton
Size System
Newborn/ Small/ Medium/ Large/ Extra Large
Prep
Yes
Style
Unisex
Type
A Fitted Nappy
Design
White / Off White Colour
Price
$$$ ( Check for current price)
Our Rating
9/10
---
Conclusion
So, mums, today, we learned that a good diaper shouldn't compromise on fit, absorbency, and manageability.
We learned too that we should be open-minded in this journey and expect some disappointments along the way.
We learned that knowing your baby's unique features is as important as his or her weight in determining the right diaper size.
I told you about leaks, it causes and some ways to prevent it and also the benefits of prepping your nappies.
Finally, I reviewed some of the most popular nappies recommended by mums for heavy wetters and overnight use.
Until next time, keep on learning and happy cloth diapering.
Stay safe and please leave a comment below.
Reference
Cloth-eez Fitted Diaper Images Courtesy Green Mountain Diapers.com
GroVia One Images Courtesy Natural Baby Company.com
TotsBots Image Courtesy Amazon