The best pushchairs to buy and why… Part one
The best pushchairs to buy are those that match the features of a good pushchair, and also come highly recommended by parents.
Remember too, that a good pushchair has to be durable, safe, comfortable, and easy to use.
In this concluding part of the pushchair series, I'll be telling you about some of the best pushchairs to buy and why.
These conclusions are drawn from the strength of what parents have said about their pushchairs and my product reviews.
A pushchair is a one-time expenditure that you must make count!
Meaning that you need to get value for your money.
This requires planning, budgeting, and research.
Planning
In planning, you would ask yourself: Should I buy at the beginning of my pregnancy or wait till late?
I wouldn't say wait till late because by then, you may become too tired to do things like test drive your choice before you buy, as I explained in the post, 12 things you need to know before you buy a pram.
Neither would I say to get it done and out with it early, without proper research. Buying early is excellent if you have done your due diligence.
Which is doing your research on  what pushchair suits your lifestyle and baby, best , and  identifying  a good pushchair.
One, not  plagued with the most common faults in pushchairs.
Where you want to buy
Would you prefer to go to a physical shop or buy online? This global pandemic has changed shopping as we know it forever!
It has further ingrained the notion that the online shopping options could be a more convenient alternative to traditional shopping practices.
The downside of online shopping is that, you may not get the  face to face support, as you would in a brick and mortar set up.
A new way of doing things
Britax Romer, the British Babycare manufacturer, has an online instant  livechat service, which has been in place, a few months  before the pandemic, according to one of their online Safety Experts.
These kinds of support services are here to stay and would continue to improve to meet the unique needs of customers.
Mamas & Papas, the UK based baby products retailer, is providing an online video call service, for mums who can't visit the store.
A live in-store colleague from the store floor provides sales support to customers by answering their questions and showing demos to those who request for one.
This online video service is available during opening hours.
According to Internet Retailing:
"The retailer is also introducing virtual Parents to Be group session to offer advice on parenting issues, with each session followed by a live Q&A. A new partnership with the National Childbirth Trust (NCT) will see practitioners answer questions on pregnancy and birth over Instagram and offer advice through the Mamas & Papas blog.mamasandpapas.com."
For those who prefer the brick and mortar set up, it will be best to do your shopping at a time when you're well able for it.
By so doing, you get to see what's out there, test drive your choice, and know precisely what is included in the price.
It's also advisable to call the store to know if they have early shopping arrangement for expectant mums.
As you well know, you are classed in the vulnerable category.
Budgeting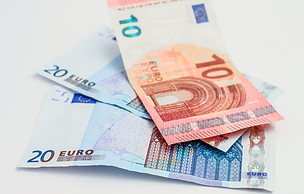 You, having a budget can't be overemphasized. In budgeting you would be asking yourself : How much resources do I have available to spend? 
Where  your resources are very slim, don't underestimate the importance of discounts, sales or offers.
Research
Researching the best pushchairs to buy could be somewhat of a minefield. It might be a great deal of help for some or a ton of confusion for others.
A safe way to start, could be from recommendations from other parents and a product review.
And please note that, if  you  purchase any item  through the  retailer link on this site, I may  earn an affiliate commission.
(Kindly refer to our affiliate disclosure for more information).
Discounts and Sales!!!!
If you are one, who is not keen on preowned items, then you have to be a huge fan of discounts, offers and sales.
Mamas & Papas, for example, has a big sales  event and they are offering up to 50% discount on a large selection of popular range of pushchairs and accessories, buggies and strollers, car seats  and lots more.
Vertbaudet is also offering up to  discount  on a wide range of baby and children's  items from clothes, nursery, toys, bedding and bedroom furniture   in  their  summer  sales. It's wise to make good use of opportunities such as these.
Offers and discounts like these,will definitely help  make your money go far!!

Highly Rated Puschairs
Convertible Pushchairs
Convertible pushchairs typically serve as  the pushchair for  the  growing  family.
Andy said:
"I've been down this road a couple of times and there are always different considerations you need to consider depending on circumstances.
It was always important to work out how these things would collapse and transport in the truck of the car and still leave space for shopping and other items.
Also, if you know you are going for walks in the country or on rough terrain then you need a buggy or pram with larger wheels.
I like the convertible systems as I found they lasted longer."
---
Bugaboo Donkey 2 Mono (Black)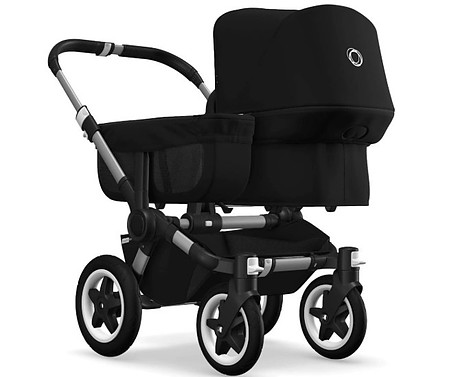 About Bugaboo Donkey 2 Mono
This is a single pushchair that can convert to a double stroller simply by extending the frame. The extension adapters are sold separately. The Bugaboo Donkey 2 Mono is suitable for children between 0- 4 years.
I personally like the look of this pushchair; it has that sleek and easy to push, feel.
It ticks all the boxes of what a good pushchair should be like; maneuverable, durable, comfortable, good brakes and wheel suspension, reclinable seat, five point harness, world and parent facing and adjustable handlebar.
It's fresh and modern compared to what I used for my children. A lot of parents sing its praises.
It's a travel system and is compatible with Maxi Cosi, Besafe and Nuna car seats.But! car seat adapters have to be bought separately.
Pros
It's easy to use and to maneuver. It has a sleek glide to it.
It has a sizable shopping basket.
It has adjustable handlebars.
It's reclinable and good backrest support.
It's sturdy.
It's good quality and well-constructed.
The seat and carry cot  can stand independently on their own, on the ground, which implies you can use them indoors.
Cons
It's bulky and would pose a problem with storage.
I find the fold a little awkward.
Even though, it's presented as being easy to fold, I would consider it's folding technique  a bit clumsy.
It looks a little too complicated for me, especially if you are in a hurry.
Verdict
It is highly recommended by parents. I like it, despite that it's bulky and may have a folding difficulty.
I think it's of superior quality, safe, comfortable, and good value for money.
---
Also see…
Bugaboo Donkey 2 Mono (Black/Ruby Red)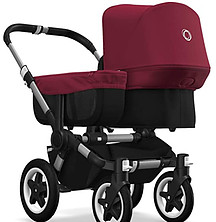 ---
Bugaboo Donkey 2 Mono ( Black /Soft Pink)

---
Bugaboo Donkey 2 Duo  ( Black /Ruby Red)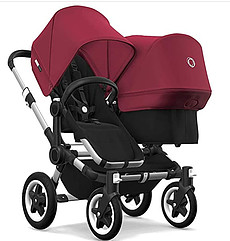 Click here for more reviews on some of the best  travel systems, pushchairs, and strollers  to buy and why.
Baby Jogger City Select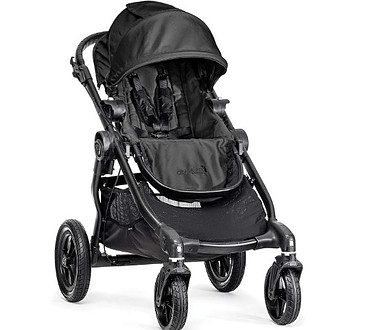 About The Baby Jogger City Select
This 16 configuration convertible pushchair can be used from birth to around three years. It can serve you as a single, double tandem, triple, and a travel pushchair.
It's both parent and world facing with features such as a compact fold, a secured latch, a five point harness and a flip-flop friendly hand operated parking brake.

Please note: You can attach a glider board, car seat or a bassinet, which are sold separately.
Pros
The wheels are maneuverable.
The frame is sturdy.
The seats recline.
It has extra-large storage basket and storage pouch.
Cons
Although it's been pitched as lightweight by the manufacturers, some mums find it heavy.
Despite that, it is advertised as having 16 configurations, a parent felt that only two positions worked well for her.
Another snag  is that, it lacks enough leg room for two c hildren.
It's not a travel system, so you need to buy adapters that are compatible with your car seat to be able to use it.
Verdict
I would say, it's a mixed bag. It's good value for your money; stylish, durable, and comfortable for your baby.
It is of  superior quality; easy to maneuver, easy to use brakes, good wheel suspension and easy to push, all right, but mums have a difference in opinion about its weight.   Some find it very heavy, while some think  it's compact fold, and secure latch makes it easy to lift.
---
Also see…

Baby Jogger City Select Single ( Charcoal Denim)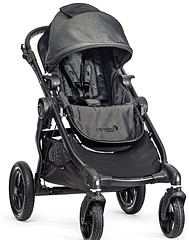 ---
Baby Jogger City Select Single ( Red)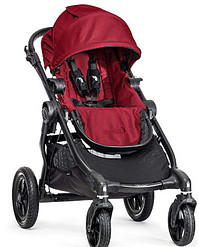 Also See On
Amazon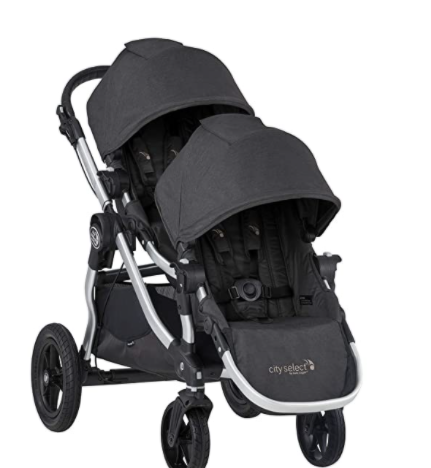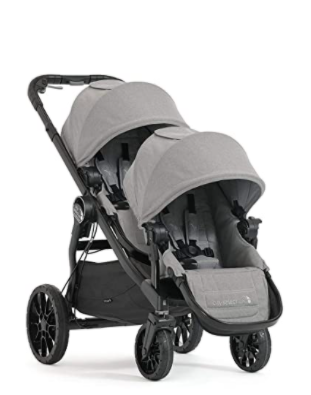 ---
Not a Convertble Pushchair  but good value for money

Britax B-Agile 3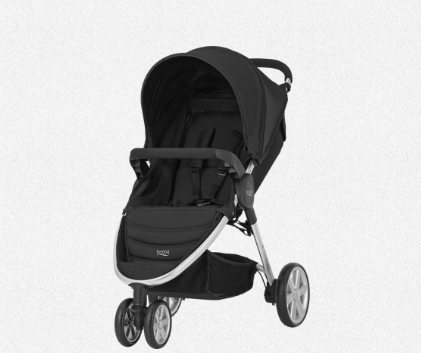 About Britax B Agile 3
This is a three-wheeler pushchair which can be used as a travel system with the aid of  the  Click and Go adapter  ( sold separately).  It is compatible with Britax BabySafe infant car seats.
This pushchair has a lightweight aluminum frame and is  suitable from birth to four years. It's typically a world facing pushchair, but you can attach the carrycot and car seat in a parent facing position.
It's Best Features
It ticks most of the boxes of a good pushchair as it's durable, comfortable, lightweight, easy one hand fold, compact and  a secure latch to hold it in place.
It's maneuverable, has  good wheel suspension, and easy to use parking brakes. It has an adjustable backrest, straps and five point harness which can be adjusted as the baby grows. It also has a well-structured and reinforced footrest.
It has a generous amount of storage space, a large canopy to shield baby from the elements, a large shopping basket and a storage pouch.
 Pros
It's easy to use for both car owner and bus and train mums.
It's comfortable and safe for baby.
Good for newborn to around age four (15kg).
It comes with a rain cover.
Good value for money.
Accessories – Optional (Sold Separately):
Carry Bag
Change Bag
Car Seat
Carry Cot
Car Seat Base
Cons
It's hard to push and heavy, when weight is added to it, a mum complains.
The major snag about it, is that the handlebars, though well-padded are not adjustable. This makes it restrictive for a variety of users.
Verdict
I think that Britax B Agile 3 Pushchairs is very good for the price, for starters. Those who love it! And those who don't, don't.
I think it's easy to use and has a very compact fold. It's   easy to carry in and out of a car boot and does well in all terrain. It is ideal for both the car owner and bus and train mum. I like it because of the price.
---
Conclusion
So, mums, I have given you my opinion about some convertible pushchairs that were well-spoken of by some parents. I have also included demos for you to watch to make up your mind.
Next week, I will bring you more recommendations from mums and more  reviews  on  travel systems, three wheelers  and strollers.
Keep safe.
Ibi
Please leave a comment and don't  forget to share.
Source and further read