The best pushchairs to buy and why… Part Two
The best pushchairs to buy and why, as earlier stated, are those that match the criteria of a good pushchair
– durable, safe, comfortable, easy to use, good brake and wheel suspension, and compliant with current pushchair safety standards; as well as being approved by parents.
In my last post, I told you about the importance of planning, budgeting, and research.
Reviews by Mums, my verdict
Today's  post, is the  sixth and final part of my pushchair series.  Like the last time, I will bring to your attention, the opinions of some parents about their pushchairs and my thoughts too.
It is my utmost desire, to be as helpful as I can be, as you journey through the path of becoming a new mum.
In the process of giving you practical tips for shopping for your baby, I will be reviewing, and recommending products, I believe could be beneficial to you.
If you decide on purchasing any item through any of the retailer links provided on this site, I may earn an affiliate commission as a result.This is not a sponsored post.
(Kindly refer to our affiliate disclosure for more information).
I shall be reviewing travel systems, three wheelers and some strollers.
There  are  also discounts, cheaper alternatives and options to get some pushchairs second hand or pre owned.
Buying Second hand
If you are a buying preowned or secondhand, you must ensure that, you do your due diligence. Be sure that the item is safe  for your newborn and most  comply with current pushchair safety standards.
The United Kingdom, Ireland and Europe must comply with the latest British Safety Standard BS EN 1888: 2018 or BS EN 1888: 2019 or the European Standard ECE R44/04 or R129 i-size or the equavalent in your region.
Watch out for choking hazards, lose parts, rickety chassis, punctured tyres, malfunctioning  brakes,  faulty handles, hood and seats, broken  adaptors  and   fresh paint. The list is inexhaustible.
The businesscompanion.info, says that the following are some of the things to look out for,when considering to buy a new or secondhand pram and pushchair:
the presence of any sharp edges or points
the folding chassis must have a primary and secondary locking device; do they both engage and work properly?
the safety harness; is it in good condition? Make sure the harness is a secure five-point harness and the straps are frayed
I would also advise that you check for cost effectiveness when buying  preowned or secondhand.
Sometimes,  it  would make more economic sense to buy a product new brand on discount, than to pay less for a preowned item but spend more on shippings costs.
For buying preowned or secondhand to make economic sense, both the cost and shipping charges, should be fairly reasonable.
(Kindly refer to our affiliate disclosure for more information).
---
Highly Rated Travel Systems
Uppababy Vista 2020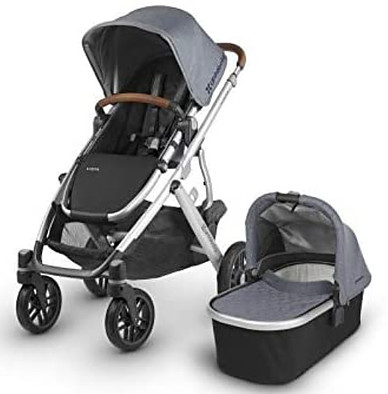 A Travel System is an all-encompassing device that comes with a pushchair to which you can attach or remove an infant car seat or a carrycot. It has the added advantage of being parent or world facing. Some brands can serve you from infancy to about age three or more.
It is perfect for the car owner mum, and can serve the other classes of mums, depending on their lifestyle
needs.
About The Uppababy Vista 2020
The Uppababy Vista V2 model can convert from a single to a double pushchair and falls into the category of a good pushchair.
It's Best Features
An improvement on Uppababy Vista V2 2019

This pushchair is an improvement on the Uppababy Vista 2019.
It has no re thread harness and it's harness can be adjusted to accommodate the growing child.
It remains compatible with Uppababy MESA without using adaptors.
However, if you prefer the Clek Liing, Maxi Cosi, Nuna PIPA, Peg-Perego, Primo Viaggio 4-35,Chicco keyfit, the Cybex Aton and Cloud Q series Car Seats, you will need to buy the adaptors, separately.
It also has the added feature of a visual lock indicator to show when the wheels are locked or unlocked.
This model has an overall perfect finish with leather details, on the handlebar and canopy, a powder coated aluminum finish, a chic lightweight frame, and a generally easy to use, appeal.
Great For All Seasons
What makes the Vista V2 very outstanding is that it is excellent for all seasons.
The carrycot comes with a vented canopy, a vented base, and a UPF 50+ sun shield, which allows for good air circulation during the hot and humid months.
During the cold winter months, the vented base and canopy of this well-padded carrycot, can be closed to help provide comfort and warmth for your baby.
Approved For Overnight Sleeping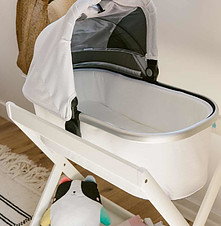 Jeanne, mother of eight months old Larla, chose this pushchair.
 Loved By Many
It's very popular among parents because the carrycot is approved for overnight sleeping making it, a versatile asset, suited for both indoor and outdoor use. To use indoors, you would need a carry cot stand.
The Uppababy Vista V2 is ideal for a family of three, in the convertible pushchair mode. For this, you would need to buy a Rumble Seat, a Piggyback board, and adaptors, separately.
It's a good buy for a car owner and a bus and train mum and equally brilliant for those mums who do a lot of walking.
A Few Niggles

There are some slight draw backs. As much as it's easy to operate and fold, this pushchair, doesn't have a grabbable handle when folded, which makes it awkward to grab and go. You're left alone to figure out where to lift it up from.
Another thing is that it could be too bulky for a small boot.
The toddler Seat is a bit of an issue for me as well.
My concern is that even though, this version has a roomier toddler Seat, it isn't newborn friendly.
To be able to use it for your new baby, you would have to purchase a separate snug seat.
The seat ''must be used with Toddler Seat in the most reclined position with insert", according to the manufacturer.
Pros
Meets the requirement of a good pushchair.
Reversible toddler seat
One handed multi position recline
Adjustable leather handlebar
Height adjustable canopy
A shock absorbing, all-wheel suspension
Cons
The bar across the basket could be an obstruction to you.
The leather detail on the handlebar, could become tacky after long term use, and could constitute choking hazards if chewed upon by your toddler.
Verdict
I would say, it's good value for your money as it comes with additional accessories- toddler seat bumper, bug shield and rain cover; carrycot bug shield and storage bag. It comes in assorted colours.
---
Here Are Cheaper Offers From
eBay
I advise that you know exactly what you are paying for. You can check out our points 12 things to know before you buy a pram for tips.
Evenflo Pivot Xpand Pushchair Is A Budget Friendly Alternative
---
Check Out More on
eBaby
Also see Pivot Modular Travel System with Safemax Rear-Facing Infant Car Seat on Amazon
Bargains and offers
Check out these special  fantastic offers from Mamas & Papas, it's selection of discount bundles of up to 50%.
---
My Favourite Pick…
Budget friendly Bugaboo Fox / Chameleon High Performance Stroller with rain cover.
Looking To Buy Second hand or preowned?
---
Highly Rated Three Wheelers

A lot has changed, with the All-Terrain Pushchairs nowadays, thanks to newer contemporary designs which are sleeker, like the three-wheeler. They come with smaller wheels and can be used within town.  

Infababy Ultimo Wheel 3 in 1 travel System
About Infababy Ultimo
This three-wheeler pushchair is very popular among mums in the Republic of Ireland.

Award Winning
Within the affordable price range, it's voted as the Best Travel System in the UK in the Mother & Baby 2020 Awards.
I consider it suitable for both car-owner and bus and train mums.
Roisin's Infababy
It's Best Features

Roisin, a new mum, spoke glowingly about her pushchair.
She explains her pushchair is a three-way travel system that comes with a car seat and carry cot.
According to Roisin:
When asked why she chose this particular brand, she responded by saying:
"I just like it because I have heard good things about it''.

Why she likes it?

"It has a big basket.

It has got good wheels on it for walking on bad roads and terrains  and stuff.

It has a car seat, a pram (carrycot), and the actual buggy, so you get a lot of use out of it".
Roisin's analysis of her pushchair resonates with what most parents feel about the Infababy Ultimo wheel 3 in 1 travel system.
However, a few describe it as heavy, and lacking in quality, durability, and size.
Pros
In my opinion, the Infababy Ultimo is very similar to the Uppababy Vista 2020, as they share practically the same features, ( see Uppababy Vista 2020 Pros).
The carrycot is suitable from birth to six months, the pushchair seat from six months to four years, while the car seat can be used from birth to one year.
The car seat is compatible with the Ultimo Isofix base.
One of the interesting safety features about it according to the manufacturer:
'' The fabric hoods and covers are trimmed with a discreet reflective silver/grey piping which is designed to reflect light on dark evenings to ensure you and baby are seen on the pavements whilst on evening walks, an added level of safety exclusively with the Infababy® ULTIMO''.
Cons
It's considered to be heavy and made from poor quality materials by some parents.
The little minus for me, is that the carrycot isn't approved for overnight sleeping, implying that you may have to buy a second pram or carrycot if you wished to use one indoor.
Verdict
I would say that based on the recommendations by parents, it's good value for money. It comes with an eco-leather covered handle, bumper bar, carry cot and rain cover at no extra cost.
---
Check out these pushchairs. They are excellent, too!
# 1 Maxi Cosi Gia Travel System
It's Best Features
This pushchair is not only similar to the Infababy Ultimo, but also ticks most of the boxes of a good pushchair.
It can easily be transformed into a travel system, by adding a car seat, which is sold separately.
It's ideal for the Car Owner, Bus and Train and Outdoorsy Mums.
Pros
Extendable Canopy
Extra Large Shopping Basket
Compact One Hand Fold
Parent and World facing
Tough Terrain Tyres
Cons
Non-adjustable handlebar
Some might consider it a little heavy when weight is added to it.
Verdict
This is a very  budget friendly pushchair. The price is fantastic! It comes with a Parent Cup Holder, Car Seat Adaptors, Rain Cover and Bumper Bar.
---
# 2 Baby Jogger City Mini GT2 All-Terrain Pushchair
About The Baby Jogger City Mini
The Baby Jogger City Mini GT2 All-Terrain Three Wheeler Pushchair, is an award-winning pushchair and suitable for the Car Owner, Bus and Train and Outdoorsy Mums.
It ticks all the boxes of a good pushchair.
According to the manufacturer, you can ''create a travel system using an infant car seat and adapters, add up to a carrycot or customise your ride with a variety of accessories (sold separately)''.

Pros
Lightweight
Adjustable Handlebar and Hand Operated Parking Brake
Adjustable Calf Support
Lie Back Recline
Can be used from birth to 22kg ( approximately five or six years)
Cons
World Facing but the car seat is usually placed in a parent facing position.
Another downside to this pushchair is that, despite all the positive reviews, a parent was apprehensive about the safety of the product. Her safety concern is that, the carrycot doesn't feel secure when clipped to the pushchair frame.
Verdict
I would say, it's good value for money as it's sturdy, maneuverable, durable, and comfortable.
Having said that, watch out for how your carrycot sits on the frame of the pushchair and be doubly sure that it's safe and secure for baby.
---
Also Check Out This From
Amazon
Baby Jogger City Mini 2 Stroller -2019 – Compact Lightweight Stroller
---
#3 Graco Evo Trio Pushchair

About The Graco Evo Trio Pushchair
The Graco Evo Travel System is a huge hit within the mums' circle because of its affordability and durability.
It's often described as classic without the fuss, bells, and whistles. In order words, it gets the job done!
About The Graco Evo Travel System
Graco Evo Trio Pushchair is a better alternative because it comes ready with a carrycot, a snug essential iSize infant car seat, in addition to the pushchair, saving you from buying the carrycot separately.
It is acclaimed to be ''an award-winning practical choice for busy parents, according to its manufacturer''.
It ticks all the boxes of a good pushchair.
Pros
Three position recline including the full lie back.
Adjustable calf support, canopy, and handlebar
Footmuff and Rain cover
Easy to use
One Hand fold
Maneuverable
Award winning
Compatible with Graco Snug Car Seat Range
World and parent facing
Cons
A bulky packaging which makes it a challenge for small spaces.
The handlebar is adjustable but not extendable. This makes it challenging for taller people since it can't be extended  to accomodate their height.
Verdict
It's durable, sturdy, and affordable. I would say yes. Go for it!
---
Also check out Ayaba's Graco

Ayaba, a mother of two, said that she got the Graco Fast Action Fold Travel System, which consisted of a car set and a stroller.
'' I learnt about it from my friends who had had babies… I enjoyed using the stroller especially for my shopping.

It was very apt as baby could be carried in all positions: sitting and lying down. It's easy to fold away and durable''.

The only niggle about it, according to the mother of two, is that it was bulky and took up a lot of space in her boot.
---
Highly Rated Strollers
A Stroller is similar to a buggy only slightly bigger. Some people see both as the same.
Nonetheless, it's distinctively different from a pushchair because it's lighter and not suitable for the rough busy street pavements.
A stroller like the buggy is easier to manage because it's lightweight and easy to fold.
This makes it ideal for moving around in the city and suitable for those who commute by bus and train.
Carol's Stroller Story

Carol, a mother of two boys, tells me about her stroller. She says that, it's light, and easy to fold.
She says:
It has a reclining seat, it's good for shopping around and for moving around on a paved street.

It's easy to travel with and can fit into the boot because it's not bulky and doesn't occupy space''.
She also says: If I'm going to the country, I would use a pushchair because it's sturdy, the wheel can grip more''.
---
Suggested Strollers

Silver Cros Pop Stroller
Baby Jogger City Tour 2 Travel Stroller
---
Conclusion
So, mums, this is an inexhaustible list of pushchairs, three wheelers, travel systems and strollers, that I have picked out for you based on recommendation from mums and my own preferences.
I hope that you found this helpful.
Please leave a comment and share your pushchair experiences.
See you soonest.
Further read
Video credit:YouTube